Rilmac Fabrication have long experience and expertise in the manufacture of water screens, incline screens and run-downs.  Used to separate solid particles from water in many different fields, including agri-food, the units can be manufactured from mild steel and painted, or stainless steel, to house single or multi mesh elements.  The multi mesh elements allow for larger units to be built.  Working to detailed drawings we fabricate and assemble the units and filters to suit the customers' requirements, ensuring that the work is completely water tight, and easy to maintain.
Due to the nature of these units the filter components are designed for easy cleaning, either by tilting, or with easy removal.  In addition to this there is also an occasional requirement for inspection hatches to gain access.  The finished incline screens and run-downs are manufactured at our Beevor Street workshops in Lincoln and could end up in a food production plant, or in water treatment works, anywhere in the world.
In the agri-food industry one key application for water screening is as part of the washing process.  Once washed the products and water are drained along the run-down.  The wire mesh stops the cleaned product from falling through while the water drains off.  The product continues down the slope into a hopper or other point of collection, sometimes from a great height.  The dirty water then drains away from underneath the filter.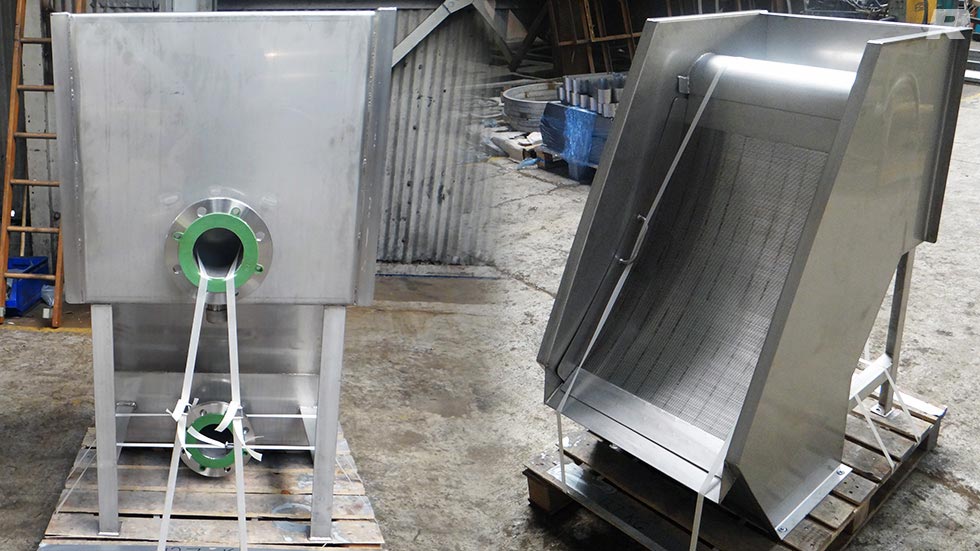 SUBSCRIBE TO OUR E-NEWSLETTER HERE
Contact Information
Rilmac Fabrication
Crofton Drive, Allenby Industrial Estate, Lincoln LN3 4NJ

Tel: +44 (0)1522 576535
Fax: +44 (0)1522 576582

Rilmac Holdings Ltd
Crofton Drive, Allenby Road Industrial Estate, Lincoln, Lincolnshire LN3 4NJ

Tel: 01522 531711
Fax: 01522 510291

What Our Clients Say
"Very impressed with Rilmac here, professional throughout and no issues with the supervision and operatives."
N Bottomley