We utilise a wide range of welding plant in our fabrication workshop in Lincoln. From small components to large constructions we have access to the most suitable fabrication plant. As well as our welding workshop we have surface treatment and industrial painting booths as well.
Rilmac have developed strategic partnerships with a number of established and well known engineering firms. The comprehensive network of approved strategic sub-contract suppliers removes the inconvenience of multiple sourcing.
All aspects of machining
Specialised coatings
Thermal Heat treatment & Vibratory metal treatment
Proof load testing
Non destructive testing
Third party approvals
Design and build
Sub-contract labour
Typical Materials Used
Mild steel plate and sections: BS EN 10025 S 275 & S355 – J0/J2
Mild steel plate and sections: BS EN 10225 2009 Low Temperature up to -40⁰ C
Pipe and tube ASTM A 106B including A304/316 & 312 Stainless steels
Ferritic Stainless steel: EN10088-1:4003
Chrome Molly and Corten A
Wear resistant steels (Typical AR400 & RQT/Hardox & Weldox)
Aluminium and Naval Brass
Approvals & Affiliations 
BSI EN ISO 9001:2008, Certificate Number FM20424 (First registered 1992)
Members of the Engineering Employee Federation (EEF)
Fabrication Workshops
Crofton Drive (Lincoln):
Bay 1: Total area = 889 Mtrs² (9147 Ft²)
684 Mtrs ² covered by 2 overhead cranes – 1 @10 Te and 1@ 5Te
Beevor Street (Lincoln):
Bay 1: Total area = 1288 Mtr² (13,783 Ft²) covered by 2 overhead cranes – 1 @12.5 Te and 1 @ 10Te
Bay 2: Total area = 1395 Mtr² (15,010 Ft²) covered by 2 overhead cranes – 2 @ 10 Te
Fabrication Plant List Summary 
CNC High definition plasma cutter: 4Mtr x 2Mtr bed, capacity 25mm stainless to 30mm Mild steel
Plate shearing: 3.8Mtrs x 15mm thick
Various Plate Rolling: 2.4Mtrs x 15mm thick with a Minimum diameter 250mm
Folding: Multi purpose bender 13 tone, sections and pipes. 160Te Part CNC break press
Complementary machinery: Burning, Welding including stud welding, radial arm drills, Iron workers, various saws, Pulmax bevellers and
welding manipulators
Associated equipment for precision sheet metal work, lock formers, spot welders etc.
Finishing:
Abrasive blast cleaning: BS7079 Part 1A & ISO 8501-1: booth 14.5Mtrs x 5.5Mtrs x 3.75Mtrs High C/W shot recovery and filtration.
Heated Paint Booths: Booth 1 = 14.5Mtrs x 5.5Mtrs x 2.9Mtrs: Booth 2 = 14.3Mtrs x 5Mtrs x 2.9Mtrs; Booth 3 (Crofton facility 4.6Mtrs x 4.2Mtrs x 2.6Mtrs High).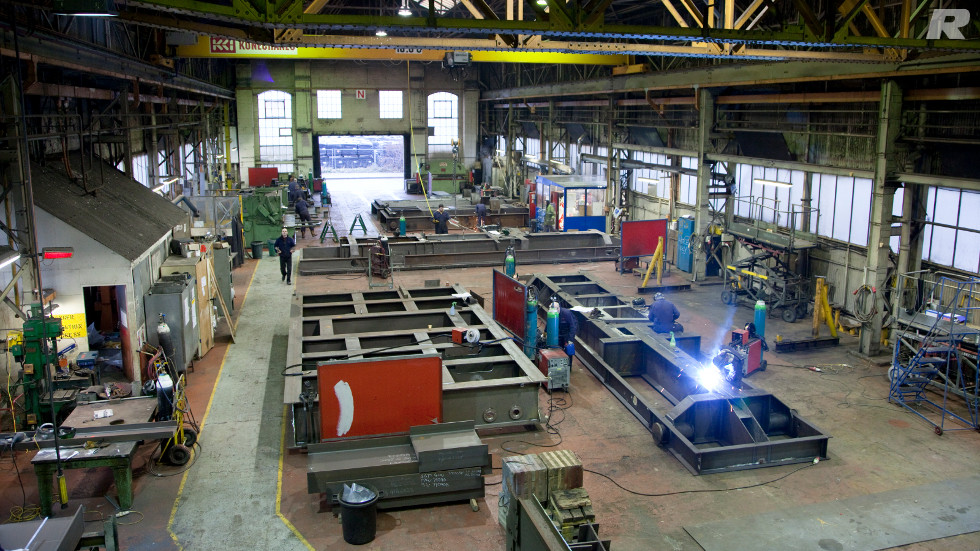 SUBSCRIBE TO OUR E-NEWSLETTER HERE
Contact Information
Rilmac Fabrication
Crofton Drive, Allenby Industrial Estate, Lincoln LN3 4NJ

Tel: +44 (0)1522 576535
Fax: +44 (0)1522 576582

Rilmac Holdings Ltd
Crofton Drive, Allenby Road Industrial Estate, Lincoln, Lincolnshire LN3 4NJ

Tel: 01522 531711
Fax: 01522 510291

What Our Clients Say
"Just a note of thanks for the excellent service you and your scaffolders have provided here at The Beacon.
Your scaffolders, especially Chris and Shaun are great, and nothing is too much of a burden for them.
Once again, thanks and I look forward to the next phase."
Daryl Green
Wates