Project: Housing Development
Client: Mulgrave Properties
Location: Great Broughton
Timescale: Nine months from September 2018 (approx.)
Value: £105,000
Rilmac Scaffolding are providing access solutions for a new housing development in Great Broughton, on the edge of the North Yorkshire Moors National Park. The development will consist of 25 traditional build houses and ten garages and take approximately nine months to complete. This is one of several such housing developments from Mulgrave Properties across the north of England where Rilmac are supplying scaffolding solutions.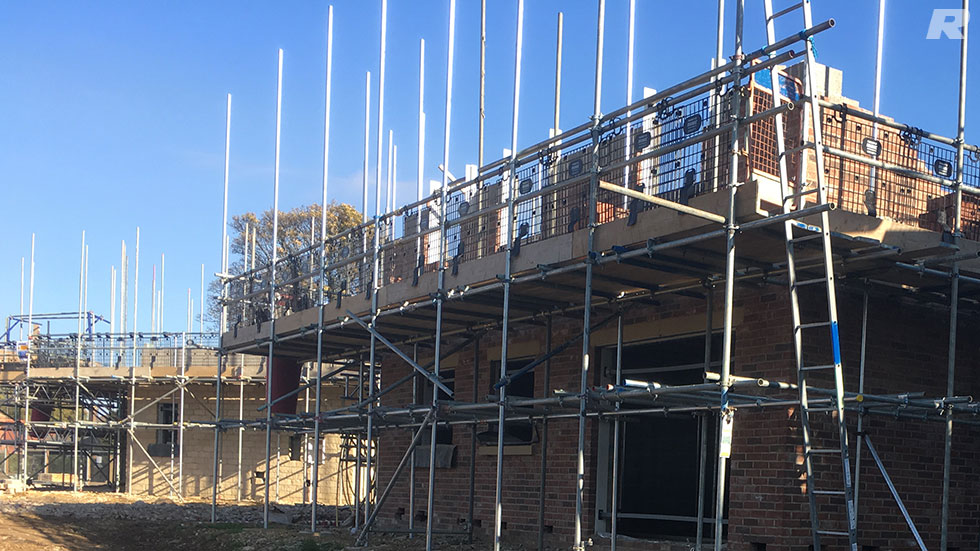 Contact Numbers
Rilmac Scaffolding - Lincoln
Greetwell Road, Lincoln, Lincolnshire LN3 4NH

Tel: 01522 545680
Fax: 01522 516530

Rilmac Scaffolding - London
B.W. House, 1 Lea Road, Waltham Abbey, EN9 1AS

Tel: 0203 553 1283

Rilmac Scaffolding - Northampton
Unit 3, The Scorpion Centre, 19-21 Hartburn Close, Crow Lane Industrial Estate, Northamptonshire NN3 9UE

Tel: 01604 659 788

Rilmac Scaffolding - Huddersfield
Heritage Exchange, Wellington Mills, Plover Road, Lindley, Huddersfield, HD3 3HR
Rilmac Holdings LTD
Crofton Drive, Allenby Road Industrial Estate, Lincoln, Lincolnshire LN3 4NJ

Tel: 01522 531711
Fax: 01522 510291

What Our Clients Say
"The design services of Rilmac have been invaluable to us across various projects within MOD CA contracts making use of the in house bespoke design services involved in some difficult projects made easier by the professional approach.
Wiliness as previously mentioned is evident in occasions of assistance in site attendance and advice to both our business and the client CA in advising both on any aspects they can be of assistance. They promote collaborative working across all parties."
Nick Burrows, Area Manager
Daubney