Rilmac Scaffolding provides a responsive high level access disaster recovery service which is crucial to ensure you have minimum productivity disruption.
We have become renowned within the disaster recovery industry as the premier supplier of high level access to facilitate environmental cleans in large volumes at very short notice.
Our expertise has been used by several National and International companies throughout the UK to provide safe, fast access solutions. We help to enable you to get your facilities back up and running in the fastest possible time frame.
We can provide scaffolding and access solutions where there is:
fire damage;
smoke damage;
water damage;
storm and weather damage;
access needed in, over and around existing production machinery.
Our team can provide design drawings, source materials, labour and all relevant plant and have operatives on site within 48 hours of the initial call.
If you are an insurer, facilities manager, commercial cleaner or disaster recovery specialist and need a safe, experienced and efficient scaffolding team to help you, call us today on our disaster recovery hotline – 01522 545680 – our track record proves that we can and do deliver.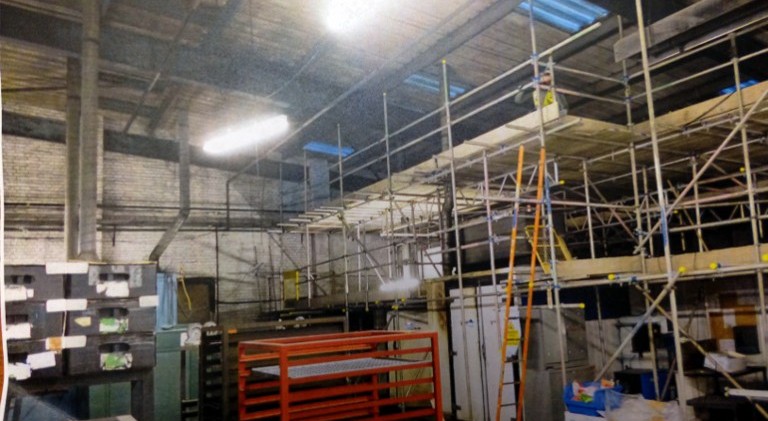 SUBSCRIBE TO OUR E-NEWSLETTER HERE
Contact Information
Rilmac Scaffolding - Lincoln
Greetwell Road, Lincoln, Lincolnshire LN3 4NH

Tel: 01522 545680
Fax: 01522 516530

Rilmac Scaffolding - London
B.W. House, 1 Lea Road, Waltham Abbey, EN9 1AS

Tel: 0203 553 1283

Rilmac Scaffolding - Northampton
7 Edgemead Close, Round Spinney, Northampton, Northants, NN3 8RG

Tel: 01604 659 788

Rilmac Scaffolding - Huddersfield
Heritage Exchange, Wellington Mills, Plover Road, Lindley, Huddersfield, HD3 3HR
Rilmac Holdings Ltd
Crofton Drive, Allenby Road Industrial Estate, Lincoln, Lincolnshire LN3 4NJ

Tel: 01522 531711
Fax: 01522 510291

What Our Clients Say
"Just a note of thanks for the excellent service you and your scaffolders have provided here at The Beacon.
Your scaffolders, especially Chris and Shaun are great, and nothing is too much of a burden for them.
Once again, thanks and I look forward to the next phase."
Daryl Green
Wates