Discovering asbestos in a residential property can be a worrying and stressful time.  Rilmac Asbestos Services provide excellent customer service ensuring domestic asbestos removal is smooth and worry free.
Domestic Asbestos Removal
Due to the hazardous nature of asbestos, and the legal restrictions on the management of domestic asbestos removal, Rilmac have prepared a simple online questionnaire which will lead you to the most appropriate option, and give contact details for the appropriate department in Rilmac Asbestos Services.
Complete the questionnaire here.
If you already have undamaged domestic asbestos waste already bagged which is your responsibility please contact us to arrange for collection and disposal here.
Rilmac's specialist customer service department manages removal as part of framework agreements for Building Contractors (reinstatement works), Housing Associations, Councils and works nationwide for major insurance companies. This work is very fast track with rapid response times and full tenant / customer liaison.
Rilmac manage the work using our bespoke contract tracking system that records all the details of the contract and tracks key dates and deadlines, this is then used to ensure the contract programme is achieved. The system also provides Key Performance Indicator (KPI) and Service Level Agreement (SLA) information so you can be sure that you are receiving the fantastic levels of service that we are renowned for.
Speak to us about your household asbestos removal and household asbestos disposal worries.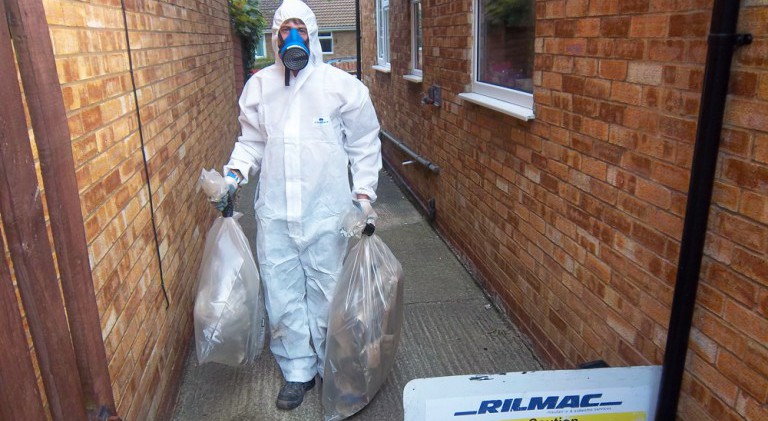 SUBSCRIBE TO OUR E-NEWSLETTER HERE
Contact Information
Rilmac Asbestos - Manchester
Swan Building, Swan Street, Manchester, M4 5JW

Tel: 0800 612 9002

Rilmac Asbestos - Lincoln
Crofton Drive, Allenby Road Industrial Estate, Lincoln, Lincolnshire LN3 4NJ

Tel: 0800 612 9002
Fax: 01522 510291

Rilmac Asbestos - London
Unit 4, Ashton Gate, Ashton Road, Harold Hill, Romford, RM3 8UF

Tel: 0800 612 9002

Rilmac Asbestos - Huddersfield
Heritage Exchange, Wellington Mills, Plover Road, Lindley, Huddersfield, HD3 3HR

Tel: 0800 612 9002

Rilmac Asbestos - Northampton
7 Edgemead Close, Round Spinney, Northampton, Northants, NN3 8RG
Rilmac Holdings Ltd
Crofton Drive, Allenby Road Industrial Estate, Lincoln, Lincolnshire LN3 4NJ

Tel: 01522 531711
Fax: 01522 510291

What Our Clients Say
"Thank you so much for your hard work. You are the best asbestos company that I have had work for me in the last 20 years. All work carried out was done in a very professional and safe manner. Communication to our site staff and to our office is second to none from your site operatives and from your office. We cannot wait to use you again on our next project. "
Ian Newstead