As Christmas Day draws closer more and more people will be keeping an eye out for Santa Claus.  Rilmac Insulation & Asbestos Services are hoping that you will spot the Rilmac Santa and help raise money for local charity LEAP.  Santa has joined the Rilmac team for the lead up to Christmas and can be identified by the Santa Claus graphic on the driver's door.  Anyone spotting the official Rilmac Santa van are asked, if it's safe and legal, to snap a quick photo of Santa as he drives around and post it to one of the Rilmac social media feeds.  Every new photo posted to one of the feeds will see another donation by Rilmac to the LEAP Charity.
Having made previous donations to LEAP, Lincolnshire Employment Accommodation Project, Rilmac are helping to raise funds for the charity to support 40 homeless, disadvantaged young people over the Christmas period.  £10 can provide a Christmas Dinner, and LEAP are also aiming to give each young person a present and activities over Christmas Week.
Rilmac have an active social media presence and can be found on Twitter at @RilmacGroup, on Faceback as RilmacGroup, and on Linked as rilmac-group.  If you spot the Rilmac Santa between now and Christmas Eve, get a safe and legal photo, post it to the social media feed of your choice, tag in Rilmac and use the hashtag #RilmacSanta, and Rilmac will make a donation to LEAP on your behalf.
"This a fun way to help make some money for an important charity while also raising awareness." said Ryan Hubbard, Asbestos Director at Rilmac Insulation, "We are looking forward seeing and sharing the photos as they come in."
"Nearly everyone uses some form of social media," added Michael Woods, Rilmac Insulation Managing Director, "and we are pleased to be in a position to make a donation to a very worthwhile cause on every Santa spotters behalf.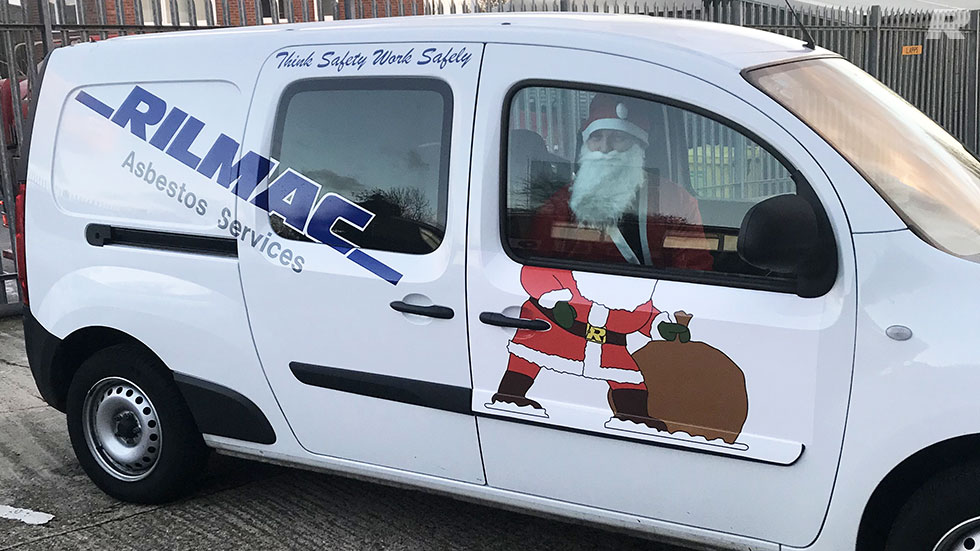 Rilmac Asbestos - Lincoln
Crofton Drive, Allenby Road Industrial Estate, Lincoln, Lincolnshire LN3 4NJ

Tel: 0800 612 9002
Fax: 01522 510291

Rilmac Asbestos - London
B.W. House, 1 Lea Road, Waltham Abbey, EN9 1AS

Tel: 0800 612 9002

Rilmac Asbestos - Huddersfield
Heritage Exchange, Wellington Mills, Plover Road, Lindley, Huddersfield, HD3 3HR

Tel: 0800 612 9002

Rilmac Asbestos - Northampton
7 Edgemead Close, Round Spinney, Northampton, Northants, NN3 8RG
Rilmac Holdings LTD
Crofton Drive, Allenby Road Industrial Estate, Lincoln, Lincolnshire LN3 4NJ

Tel: 01522 531711
Fax: 01522 510291