There are many ways Rilmac describe their scaffolding; well-designed, safe, industry compliant, professional, sturdy, for example.  After the weekend of 13th – 15th December 2019 they will also be able to use 'spectacular'!  Rilmac Scaffolding are building a bespoke multi-levelled stage set for this year's Christmas Spectacular held at the Alive Church in Lincoln.  The show is loosely based on The Greatest Showman and will feature music, dance and acrobatics.
The challenge for Rilmac designers was to provide two 'catwalks' which will protrude in to the crowd, support for a large LED screen and for the lighting rig, a raised area for a drumkit, sections suitable for aerial artists, and safe access for everyone to reach their own level.  All built to fit around an existing stage and balcony.  The finished scaffolding will allow for greater impact from the show making more spectacular than before.
There will be four shows this year, three in the evening and a matinee on the 14th.  As well as the performances there will be a chance to meet Santa and to join in family fun.
An additional consideration for Rilmac was the time required to build and strip the scaffold as Christmas is, unsurprisingly, a busy time of year for the Church.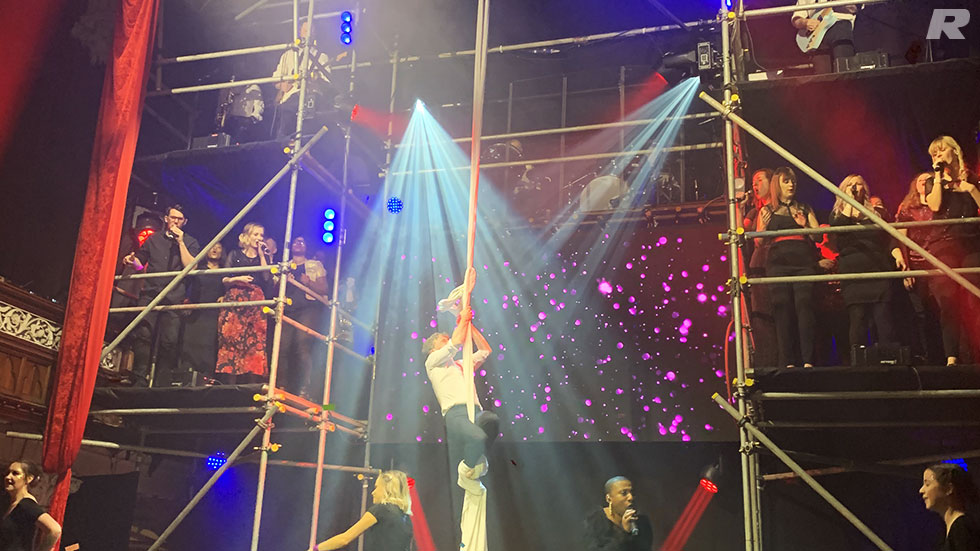 Rilmac Scaffolding - Lincoln
Greetwell Road, Lincoln, Lincolnshire LN3 4NH

Tel: 01522 545680
Fax: 01522 516530

Rilmac Scaffolding - London
Unit 4, Ashton Gate, Ashton Road, Harold Hill, Romford, RM3 8UF
Rilmac Scaffolding - Northampton
7 Edgemead Close, Round Spinney, Northampton, Northants, NN3 8RG

Tel: 01604 659 788

Rilmac Scaffolding - Huddersfield
Heritage Exchange, Wellington Mills, Plover Road, Lindley, Huddersfield, HD3 3HR
Rilmac Holdings LTD
Crofton Drive, Allenby Road Industrial Estate, Lincoln, Lincolnshire LN3 4NJ

Tel: 01522 531711
Fax: 01522 510291