Rilmac have been supporters of Lincoln Rugby Club for many years.  Sam Cowles, estimator at the Insulation Division, regularly turns out for the first team, while his brother, Asbestos Contacts Manager Harry Cowles is a former captain.
The recent Lincoln match against Market Rasen & Louth saw Rilmac as Match Day Ball Sponsors.  This local derby was the final fixture in Lincoln's league campaign, which saw them finish 6th.  However, they have a cup final to look forward to on the 6th May.
Rilmac's guests for the match were Lincoln based electrical engineers Selmec, with whom Rilmac have a long working relationship.  Although the hospitality was well received the result unfortunately went against Lincoln who lost 7 – 0 in a very tight contest.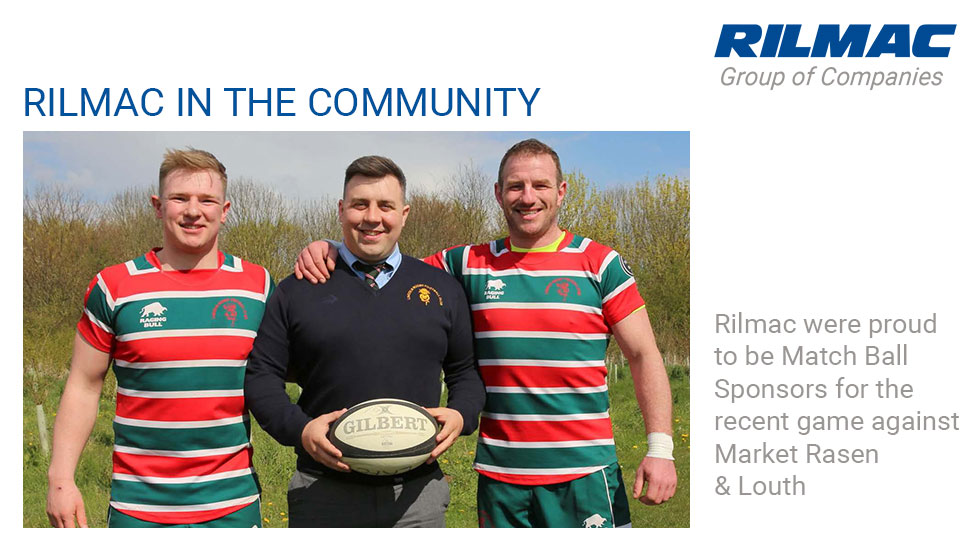 Rilmac Asbestos - Manchester
Unit D21 Fieldhouse Industrial Estate, Fieldhouse Road, Rochdale, OL12 0AA

Tel: 0800 612 9002

Rilmac Asbestos - Lincoln
Crofton Drive, Allenby Road Industrial Estate, Lincoln, Lincolnshire LN3 4NJ

Tel: 0800 612 9002
Fax: 01522 510291

Rilmac Asbestos - London
Unit 4, Ashton Gate, Ashton Road, Harold Hill, Romford, RM3 8UF

Tel: 0800 612 9002

Rilmac Asbestos - Huddersfield
Heritage Exchange, Wellington Mills, Plover Road, Lindley, Huddersfield, HD3 3HR

Tel: 0800 612 9002

Rilmac Asbestos - Northampton
7 Edgemead Close, Round Spinney, Northampton, Northants, NN3 8RG
Rilmac Holdings LTD
Crofton Drive, Allenby Road Industrial Estate, Lincoln, Lincolnshire LN3 4NJ

Tel: 01522 531711
Fax: 01522 510291