Rilmac Scaffolding are pleased to announce a new, long term contract, working with Bellway Homes to provide much needed housing in the Humber region.  A development of 226 traditional build homes are being constructed in Anlaby, near Hull, and Rilmac are proud to be providing the access scaffolding for the project.
The development will consist of 2, 3, 4 and 5 bed properties, including townhouses and semi-detached properties, and a communal green area.  Bellway have confirmed that 25% of the properties will be affordable homes.
Rilmac will have teams of scaffolders on site for three years as part of the contract.  For added safety the customers, Bellway Homes, have requested use of the Trad Deck platform system on site.  Rilmac are very experienced in the use of Trad Deck and have invested heavily in the product.
"We're very proud to have won this long-term contract," said Rilmac Scaffolding Contracts Director Sam McSpadden, "It underlines the hard work we have put in to ensure we can take on larger contracts anywhere in the country."
"This is good news for Rilmac, and we are looking forward to being on site for three years." Added Des Booth, Rilmac Scaffolding Managing Director, "It proves our investment in our people, and in products like Trad Deck, is benefitting the company in the long term."
Site plan copyright: Sten Architecture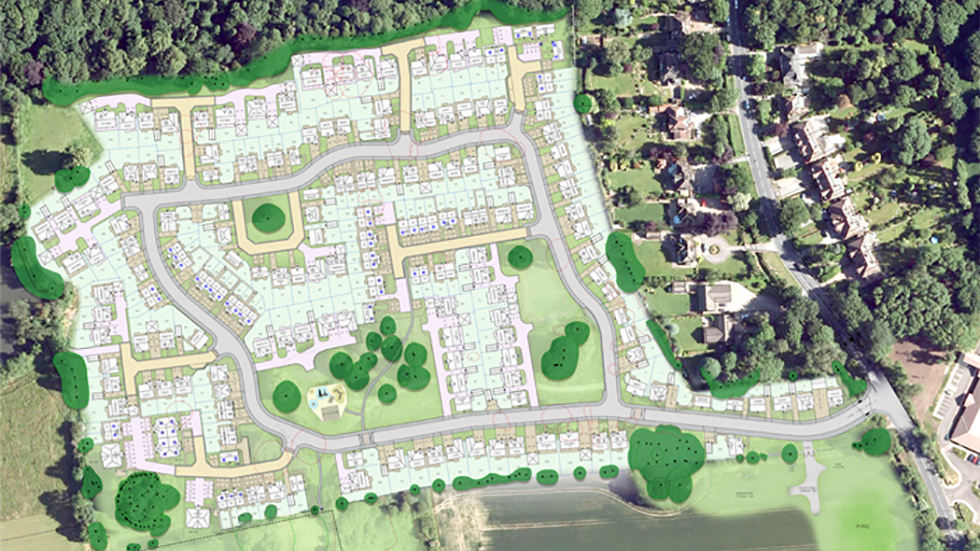 Rilmac Scaffolding - Manchester
Unit D21 Fieldhouse Industrial Estate, Fieldhouse Road, Rochdale, OL12 0AA

Tel: 0800 612 9002

Rilmac Scaffolding - Lincoln
Greetwell Road, Lincoln, Lincolnshire LN3 4NH

Tel: 01522 545680
Fax: 01522 516530

Rilmac Scaffolding - London
Unit 4, Ashton Gate, Ashton Road, Harold Hill, Romford, RM3 8UF
Rilmac Scaffolding - Northampton
7 Edgemead Close, Round Spinney, Northampton, Northants, NN3 8RG

Tel: 01604 659 788

Rilmac Scaffolding - Huddersfield
Heritage Exchange, Wellington Mills, Plover Road, Lindley, Huddersfield, HD3 3HR
Rilmac Holdings LTD
Crofton Drive, Allenby Road Industrial Estate, Lincoln, Lincolnshire LN3 4NJ

Tel: 01522 531711
Fax: 01522 510291