Rilmac Insulation Ltd are proud to have been able to provide free asbestos removal services for a deserving family from Hessle, East Riding Yorkshire, who are to be featured on the BBC One Series ' DIY SOS: The Big Build ' presented by Nick Knowles and his team.
When Rilmac Asbestos Services staff heard the unfortunate story of Darren and his family, they were inspired to contact them and offer any support they could. Darren, who was himself a volunteer on the DIY SOS Hull build in 2015, suffered a devastating injury to his spinal cord in 2017 leaving him unable to walk. After months of rehabilitation, wheelchair bound Darren returned home in December, only for tragedy to strike again. Darren's wife Sarah died suddenly on Boxing Day.
Eager to help, Rilmac teamed up with specialist asbestos surveyors Ensafe to undertake and provide a full refurbishment survey free of charge. Although much of Darren's home was free of hazardous asbestos, some was discovered in the areas around the front door and window. As the door frame was due to be removed this needed to be addressed before the other volunteers could start work and the asbestos containing putty was removed from the window frame.
Rilmac contracts manager Nick Coughlan managed the project working with two highly trained operatives, Dan Noone and Phil Lockham. Having ensured the safe removal of asbestos the contaminated waste was securely transported and disposed of at the Rilmac licenced Hazardous Waste Transfer Station in Lincoln.
"It has been a pleasure to do something for Darren and his family." said Nick Coughlan, "They have been through a terrible time and I am glad we were able to help them out."
"Everyone at Rilmac was eager to help," added Michael Woods, Managing Director at Rilmac Insulation Ltd, "and I am proud that Nick, Dan and Phil were able to quickly make the area safe to enable all the other volunteers to start work safely. We appreciate that this cannot replace a lost family member or Darren's mobility but we hope that we have contributed to making the quality of his day to day life better for him and his family. We all send our best wishes to Darren and his three boys for the future."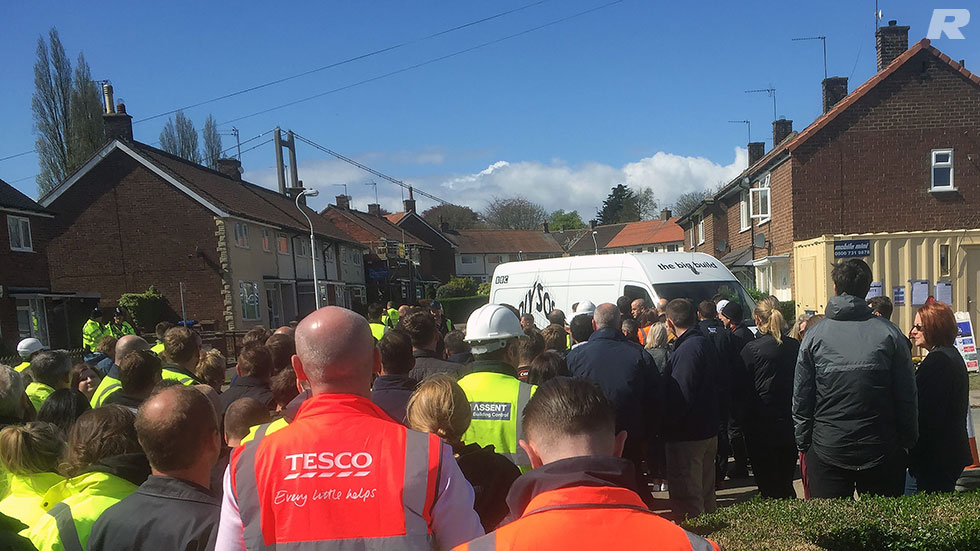 Rilmac Asbestos - Lincoln
Crofton Drive, Allenby Road Industrial Estate, Lincoln, Lincolnshire LN3 4NJ

Tel: 0800 612 9002
Fax: 01522 510291

Rilmac Asbestos - Manchester
Unit D21 Fieldhouse Industrial Estate, Fieldhouse Road, Rochdale, OL12 0AA

Tel: 0800 612 9002

Rilmac Asbestos - London
Unit 4, Ashton Gate, Ashton Road, Harold Hill, Romford, RM3 8UF

Tel: 0800 612 9002

Rilmac Asbestos - Huddersfield
Heritage Exchange, Wellington Mills, Plover Road, Lindley, Huddersfield, HD3 3HR

Tel: 0800 612 9002

Rilmac Asbestos - Northampton
7 Edgemead Close, Round Spinney, Northampton, Northants, NN3 8RG
Rilmac Holdings LTD
Crofton Drive, Allenby Road Industrial Estate, Lincoln, Lincolnshire LN3 4NJ

Tel: 01522 531711
Fax: 01522 510291