Rilmac Insulation are pleased to have been able to provide practical support for NHS staff working at Lincoln County Hospital during the Coronavirus outbreak.  Following up on a proactive Facebook message from a member of the public Rilmac approached the ICU (Intensive Care Unit) and Estates Department at the hospital to offer some unique support.
With increased numbers of healthcare staff working at the ICU basic employee welfare was proving a challenge.  There was a shortage of available toilets, showers and refreshment space for all the hardworking staff.  An issue Rilmac were happy to solve.
In their day-to-day business of asbestos removal Rilmac Insulation use dedicated DCUs (De-contamination Units) to ensure operative safety and to remove potential contamination.  These units are also ideal for providing shower facilities to frontline staff in the Covid-19 crisis.
Rilmac and long-standing specialist suppliers Thermac have teamed up to donate the use of, installation and maintenance of two of these units at Lincoln County Hospital.  Thermac have also donated gas bottles for each DCU.
To meet the requirements for toilets and refreshment space Rilmac installed a block of portable toilets and a temporary canteen donated by industry supplier SRP Hire Solutions.  The entire set up will make life easier for NHS staff as they tackle the pandemic on a day to day basis.
"These are worrying times, and everyone is looking for ways they can support their local communities through this crisis." said Michael Woods, Managing Director of Rilmac Insulation. "We would like to extend our thanks to Thermac and SRP for the donation of these units and making this support possible.  We are proud to have been able to install this support for the NHS at such a critical time."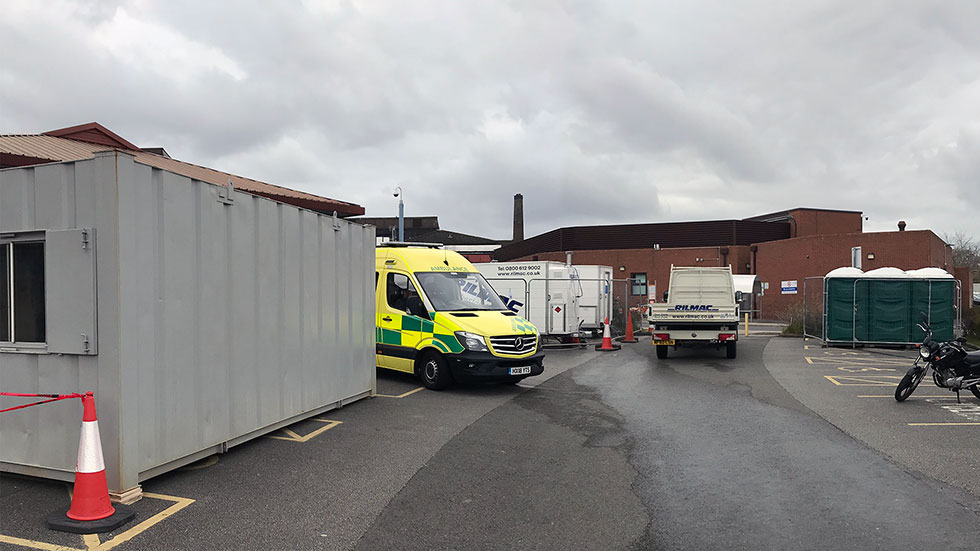 Rilmac Asbestos - Lincoln
Crofton Drive, Allenby Road Industrial Estate, Lincoln, Lincolnshire LN3 4NJ

Tel: 0800 612 9002
Fax: 01522 510291

Rilmac Asbestos - Manchester
Unit D21 Fieldhouse Industrial Estate, Fieldhouse Road, Rochdale, OL12 0AA

Tel: 0800 612 9002

Rilmac Asbestos - London
Unit 4, Ashton Gate, Ashton Road, Harold Hill, Romford, RM3 8UF

Tel: 0800 612 9002

Rilmac Asbestos - Huddersfield
Heritage Exchange, Wellington Mills, Plover Road, Lindley, Huddersfield, HD3 3HR

Tel: 0800 612 9002

Rilmac Asbestos - Northampton
7 Edgemead Close, Round Spinney, Northampton, Northants, NN3 8RG
Rilmac Holdings LTD
Crofton Drive, Allenby Road Industrial Estate, Lincoln, Lincolnshire LN3 4NJ

Tel: 01522 531711
Fax: 01522 510291