"Each person that we employ at Rilmac is unique, it is essential that we actively support and offer care to each of our employees. An important part of this is to promote a positive environment that encourages people to not only share concerns but recognise the symptoms of mental health issues in those around them. By signing up to the 'Mates In Mind' initiative we can help to break the silence and stigma around mental health. We can help everyone understand their role and responsibility when it comes to our employees' mental wellbeing. Together we can create a healthier working environment, together we are stronger." said Steve Baxter, Rilmac Group MD.
People are more likely to share information about their physical wellbeing than their mental health as this can unfortunately be perceived negatively. Statistics show that the issue of mental health is a significant challenge to the construction industry. A recent survey revealed that more than half of workers in construction have reported mental health issues.  Sadly, this is compounded with the industry suffering three times the national average of suicides.
The Rilmac Group and Lindum Group, two of Lincoln's largest employers, are working together to address this issue. Both companies have signed up to the 'Mates in Mind' initiative. 'Mates in Mind' is a specialist charity working solely in the construction industry providing mental health support to all its members' employees.  The aim is to provide a framework of support and educate employees to understand their roles and responsibilities when it comes to mental wellbeing. They also work in close partnership with support agencies such as Mind and the Samaritans ensuring that the best, confidential advice is always available.
To coincide with Mental Health Awareness Week (13th – 19th May) a joint initiative between the Rilmac Group and Lindum Group will be launched. Awareness of the issues and support available will be cascaded out in the form of workshops, group sessions, on-site tool box talks and inductions, supported by pocket sized cards printed with confidential helplines. Posters with mental health information which will also be displayed at all sites.
Paul Walker, Chairman of the Rilmac Group said, "for years the focus of the industry has been biased towards the physical well being of those that work within it. More recently it is recognised that providing a mentally healthy workplace is equally important. Through this initiative we are proud to be working with Lindum to address this shortfall within the industry."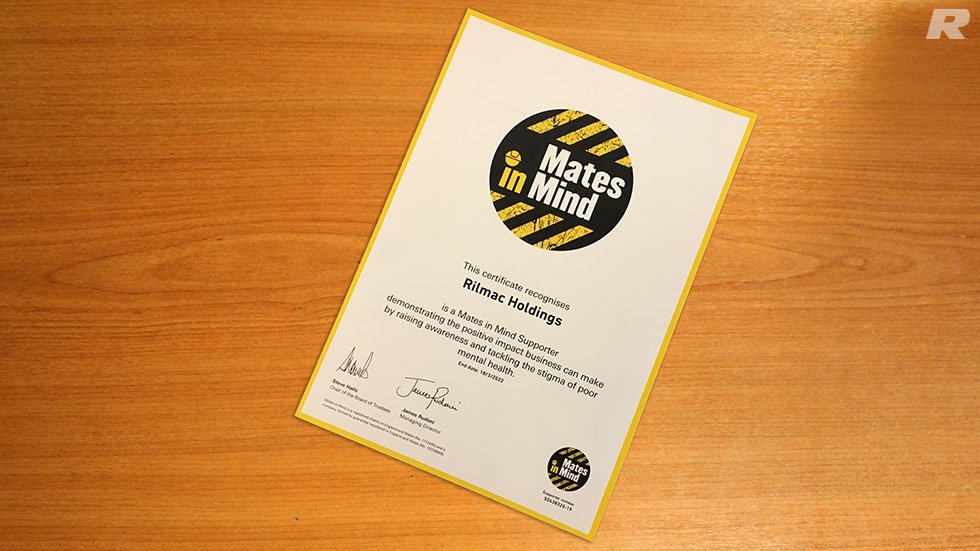 Rilmac Holdings LTD
Crofton Drive, Allenby Road Industrial Estate, Lincoln, Lincolnshire LN3 4NJ

Tel: 01522 531711
Fax: 01522 510291