Project: Hotel Expansion
Client: RG Carter
Location: Lincoln
Timescale: One year from June 2019
The Brayford Holiday Inn project will add another 55 bedrooms to the existing 98-bedroom Hotel.  RG Carter have contracted Rilmac Scaffolding to provide progressive scaffold access to the full envelope of the new structure including edge protection to all roof levels.
The project is very restricted for both access and material space as the car park to the rear is still in full use by the Hotel.  Rilmac are working closely with RG Carter to ensure the completion date can be achieved safely and to a high standard.
Customer Comment:
"The superstructure of this project was always going to be built at a very fast pace due to the structural design and the Kingspan SFS system that was to be used.
It was clear that we needed an adaptable scaffolding company that could not only work at pace with the build, but also be adaptable to change whilst always maintaining the highest level of Health & Safety standards throughout the process.
It was a clear decision following the tender process, that Rilmac be awarded the contract.
Now halfway through the project duration, I'm more than satisfied with Rilmac's performance on site, as well as their professionalism throughout the company.
We would certainly look to partner again on future projects."
Carl Greenwood, Site Manager – RG Carter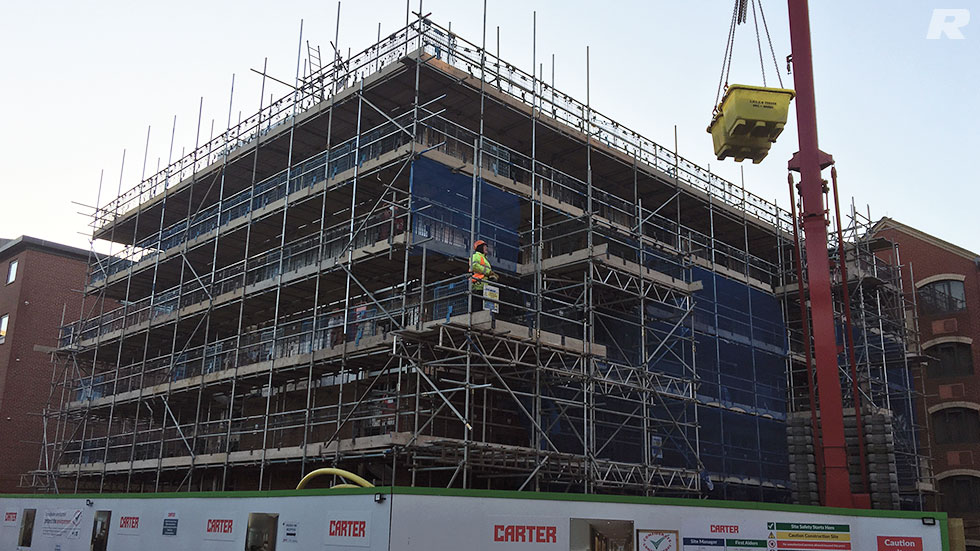 Contact Numbers
Rilmac Scaffolding - Lincoln
Greetwell Road, Lincoln, Lincolnshire LN3 4NH

Tel: 01522 545680
Fax: 01522 516530

Rilmac Scaffolding - London
Unit 4, Ashton Gate, Ashton Road, Harold Hill, Romford, RM3 8UF
Rilmac Scaffolding - Northampton
7 Edgemead Close, Round Spinney, Northampton, Northants, NN3 8RG

Tel: 01604 659 788

Rilmac Scaffolding - Huddersfield
Heritage Exchange, Wellington Mills, Plover Road, Lindley, Huddersfield, HD3 3HR
Rilmac Holdings LTD
Crofton Drive, Allenby Road Industrial Estate, Lincoln, Lincolnshire LN3 4NJ

Tel: 01522 531711
Fax: 01522 510291

What Our Clients Say
"Thank you for the email and photos. Very impressive! Looked very clean and tidy.
Arrived back yesterday to a house looking better than the photos we had! The work was very clean and no trace of anyone being here! So job well done! Thank you again for your quick response too!"
Jennifer Parkin