Client: Parker Plant
Project: Rustler 12
Scale: 8.357m x 17.557m x 3.571m
Materials: Mild Steel
Destination: USA
Number Required: 4
End Use: Road building
One of the largest projects Rilmac Fabrication have completed for Parker Plant. The Rustler 12 was built as a series of components, painted with primer, completed on the trailer chassis with the tractor unit coupling up and driven from the workshop to Leicester. Designed and built to work with ready-mix producers and allowing for better truck utilisation with a highly mobile, self-erecting remote concrete batch plant. The plant can be configured to suit most ready-mix applications with numerous aggregate and cement storage options.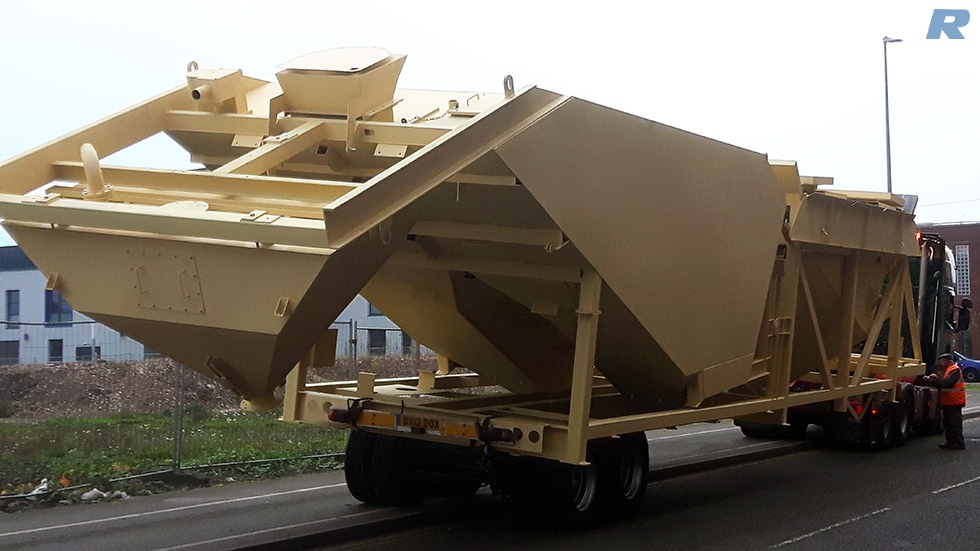 Contact Numbers
Rilmac Fabrication
Crofton Drive, Allenby Industrial Estate, Lincoln LN3 4NJ

Tel: +44 (0)1522 576535
Fax: +44 (0)1522 576582

Rilmac Holdings LTD
Crofton Drive, Allenby Road Industrial Estate, Lincoln, Lincolnshire LN3 4NJ

Tel: 01522 531711
Fax: 01522 510291

What Our Clients Say
"I'd like to thank you for the way you've carried out your work so far, never missed a day so far programme wise, work has been carried exactly how and when I've asked for it.
Your regular scaffolders can take a lot of credit for the smooth running of my site, they are conscientious and professional, they are proactive in their approach and regularly come up with fresh ideas to improve the way we are working, they have already established themselves as key members of my site team.
Thanks for everybody's contribution."
Darren Peck - Site Manager
Strata Homes