Project: Robin Hood Hotel
Client: Lindum Construction
Location: Newark
Buildings: Hotel and retail units
Timescale: 15 months from July 2019
Value: £5.2M for complete project
Rilmac Scaffolding have been contracted to provide access and support scaffolding for the construction of a hotel in Newark.  The completed project will see a 66 bed Travelodge Hotel with retail units at ground level.
The project has presented two key challenges for Rilmac Scaffolding.  As the site is on a major junction in Newark there is restricted space to manoeuvre and build the scaffolding.  Additionally, site that is being developed contains a listed building the frontage of which must be retained as key part of the project.  Rilmac have designed and built support scaffolding to keep this part of the structure in place while the rest of site is developed.
Rilmac will be on site for 15 months.
Customer Comments:
Rilmac are very professional from design to the completion of the project.
Malcolm Cousins – Lindum Construction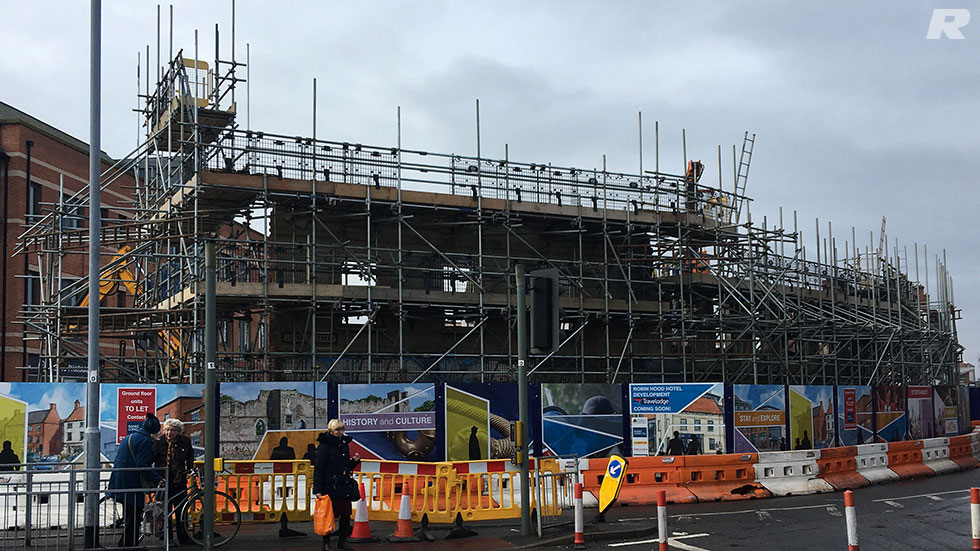 Contact Numbers
Rilmac Scaffolding - Manchester
Unit D21 Fieldhouse Industrial Estate, Fieldhouse Road, Rochdale, OL12 0AA

Tel: 0800 612 9002

Rilmac Scaffolding - Lincoln
Greetwell Road, Lincoln, Lincolnshire LN3 4NH

Tel: 01522 545680
Fax: 01522 516530

Rilmac Scaffolding - London
Unit 4, Ashton Gate, Ashton Road, Harold Hill, Romford, RM3 8UF
Rilmac Scaffolding - Northampton
7 Edgemead Close, Round Spinney, Northampton, Northants, NN3 8RG

Tel: 01604 659 788

Rilmac Scaffolding - Huddersfield
Heritage Exchange, Wellington Mills, Plover Road, Lindley, Huddersfield, HD3 3HR
Rilmac Holdings LTD
Crofton Drive, Allenby Road Industrial Estate, Lincoln, Lincolnshire LN3 4NJ

Tel: 01522 531711
Fax: 01522 510291

What Our Clients Say
""Superb effort by the whole Rilmac team, nothing was too much trouble, they understood the tight deadlines and did not let me down, plus the most important point the site guys worked in a professional and very safe manner." (Mark of 10/10 in Satisfaction Survey)"
Paul Hale
British Sugar