Nottingham Biosciences had an overall value of £25m and was driven by Paul Smith (Willmott Dixon) who in our opinion is a very knowledgeable Operations Manager, making the day to day running of such a large project both manageable and precise.
Our site Supervisor Gary Brown and the Willmott Dixon team worked together to ensure that the project was completed on time and to the highest standards of Health and Safety.
The Biosciences Building was recently awarded and acknowledged as a truly defect free handover.
Project: Nottingham Biosciences
Client: Willmott Dixon
Location: Lace Way, Nottingham
Time scale: November 2015 – December 2016
Contracts Manager: Rory Talbot
Site Supervisor: Gary Brown
Value: £80k
Customer comments:
"Rilmac were an integral part of the team on Biosciences project for WDC, the quality of service/work/reliability and Health and Safety were exemplary and I would have no hesitation in using and recommending Rilmac for future projects"
Rilmac scoring for the project was as follows (out of 10)
1. Health and Safety Performance: 8
2. Commercial Approach: 9
3. On Time Delivery/Commitment to Programme: 9
4. Co-operation/Service and Management: 9
5. Quality of Goods/Workmanship/Service: 8
6. Would we use again: YES
Paul Smith Operations Manager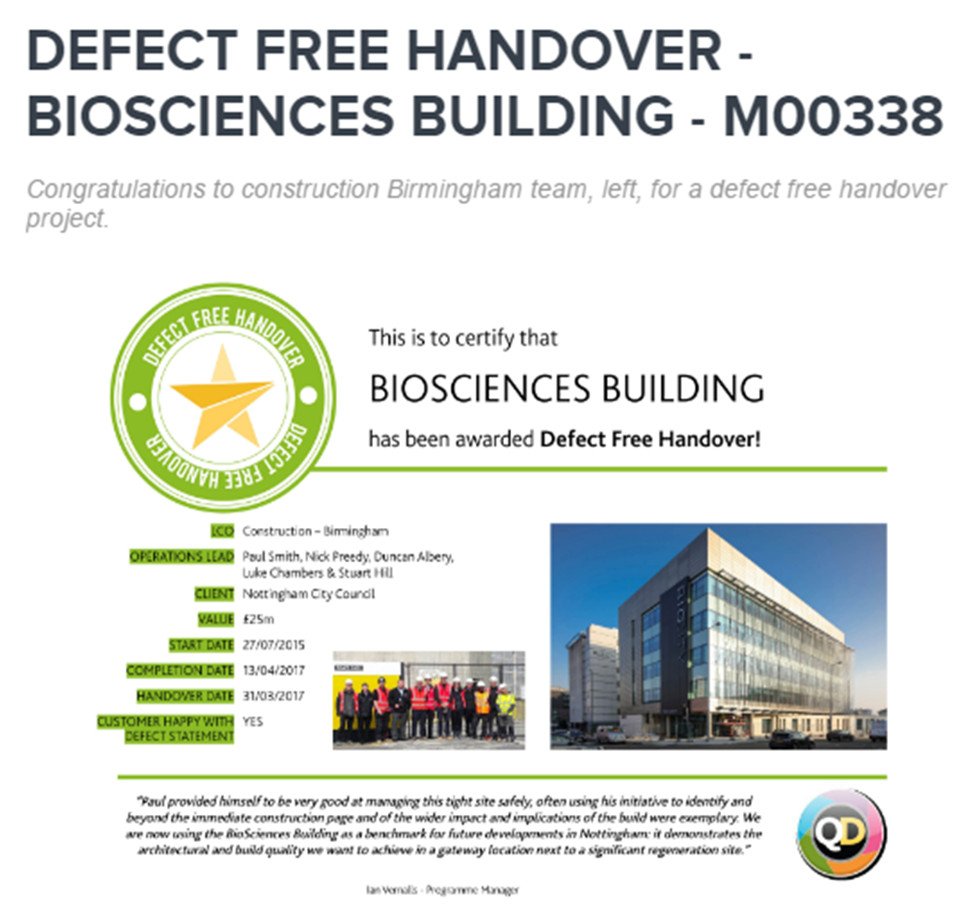 Contact Numbers
Rilmac Scaffolding - Lincoln
Greetwell Road, Lincoln, Lincolnshire LN3 4NH

Tel: 01522 545680
Fax: 01522 516530

Rilmac Scaffolding - London
B.W. House, 1 Lea Road, Waltham Abbey, EN9 1AS
Rilmac Scaffolding - Northampton
Unit 3, The Scorpion Centre, 19-21 Hartburn Close, Crow Lane Industrial Estate, Northamptonshire NN3 9UE

Tel: 01604 659 788

Rilmac Scaffolding - Huddersfield
Heritage Exchange, Wellington Mills, Plover Road, Lindley, Huddersfield, HD3 3HR
Rilmac Holdings LTD
Crofton Drive, Allenby Road Industrial Estate, Lincoln, Lincolnshire LN3 4NJ

Tel: 01522 531711
Fax: 01522 510291

What Our Clients Say
"The Rilmac team that has been involved in the job have been a pleasure to work with. You have led the project excellently with great supervisors on site. Any issues we have come across have been dealt with swiftly by your team and assistance has always been given to staff in any situation we have found ourselves in. They have each gone out of their way individually to help the job progress as a whole and I cannot commend them enough for that."
Chris French
Shoreline