Client: Mulgrave Properties
Project: Housing
Location: Rillington
Contracts Manager: Dean Booth
Rilmac Scaffolding are a quarter of the way through providing full scaffolding access on a traditional build housing development of 28 traditional build houses. The Rilmac team work on-site daily ensuring a smooth build for Mulgrave Properties operatives.
Customer Comments, Kevin Hoyland, Mulgrave Properties Director:
"May I convey my thanks to yourselves and your on-site teams for the high standards of workmanship and site presentation yesterday.
Our Board members were impressed with our site set ups, WIP and overall 'feel' of the developments, they commented that the Mulgrave Brand had moved on leaps and bounds over the past 12 months.
We can't achieve our goals without quality staff and contractors such as yourselves.
It is very much appreciated."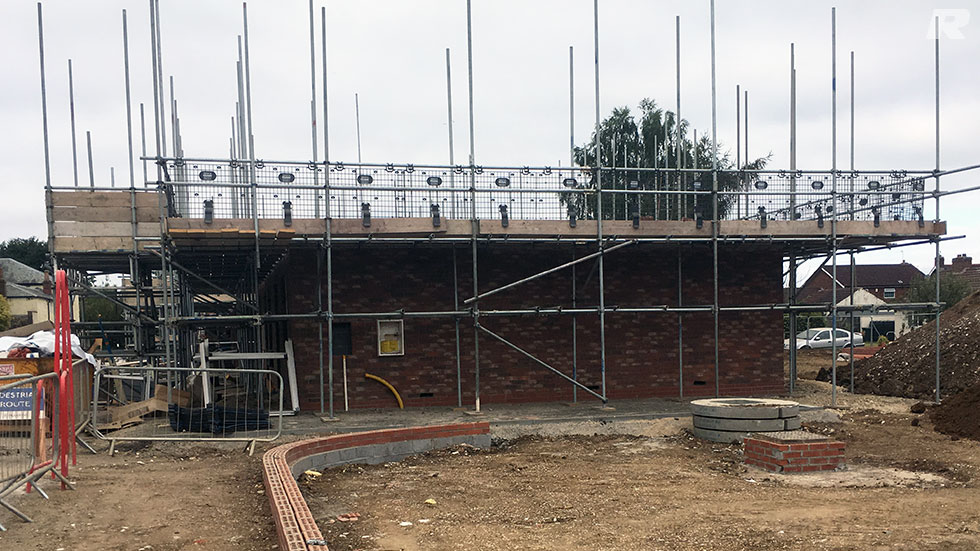 Contact Numbers
Rilmac Scaffolding - Manchester
Unit D21 Fieldhouse Industrial Estate, Fieldhouse Road, Rochdale, OL12 0AA

Tel: 0800 612 9002

Rilmac Scaffolding - Lincoln
Greetwell Road, Lincoln, Lincolnshire LN3 4NH

Tel: 01522 545680
Fax: 01522 516530

Rilmac Scaffolding - London
Unit 4, Ashton Gate, Ashton Road, Harold Hill, Romford, RM3 8UF
Rilmac Scaffolding - Northampton
7 Edgemead Close, Round Spinney, Northampton, Northants, NN3 8RG

Tel: 01604 659 788

Rilmac Scaffolding - Huddersfield
Heritage Exchange, Wellington Mills, Plover Road, Lindley, Huddersfield, HD3 3HR
Rilmac Holdings LTD
Crofton Drive, Allenby Road Industrial Estate, Lincoln, Lincolnshire LN3 4NJ

Tel: 01522 531711
Fax: 01522 510291

What Our Clients Say
"Throughout, the team have not only focused on their job at hand but more importantly for me, they have been courteous to my staff and mindful of the fact that we are an operational [division] with on going responsibilities. It has been a pleasure having the team [with us] and I wish them well in the future. Please pass on my thanks to the guys."
MN, Cornwall