Client: Willmott Dixon
Project: Little Cross Street
Location: Northampton
Project Duration: 16 weeks
Rilmac Scaffolding are providing access solutions for a block of nine houses constructed simultaneously. The buildings have a metal framed inner construction with a outer skin of brickwork and flat roofs on all nine houses.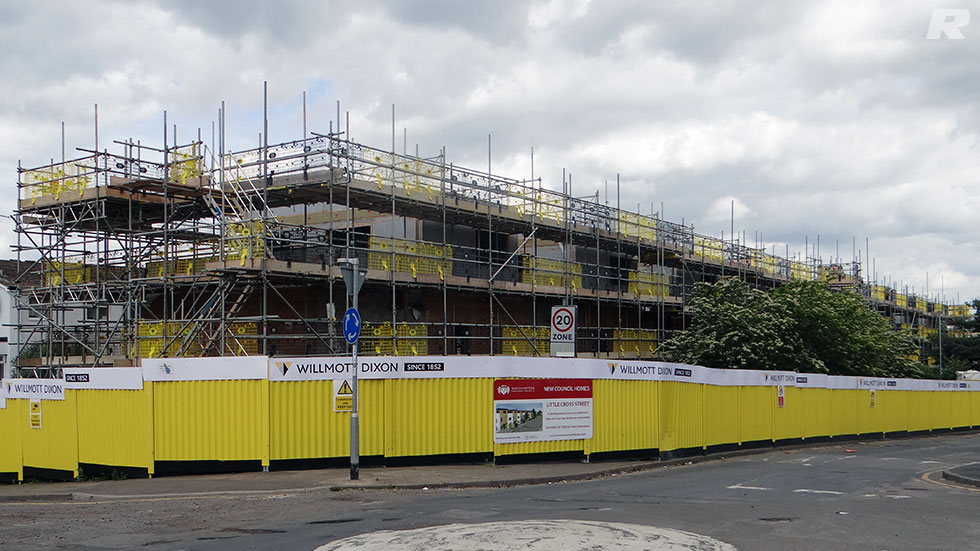 Contact Numbers
Rilmac Scaffolding - Lincoln
Greetwell Road, Lincoln, Lincolnshire LN3 4NH

Tel: 01522 545680
Fax: 01522 516530

Rilmac Scaffolding - London
B.W. House, 1 Lea Road, Waltham Abbey, EN9 1AS

Tel: 0203 553 1283

Rilmac Scaffolding - Northampton
7 Edgemead Close, Round Spinney, Northampton, Northants, NN3 8RG

Tel: 01604 659 788

Rilmac Scaffolding - Huddersfield
Heritage Exchange, Wellington Mills, Plover Road, Lindley, Huddersfield, HD3 3HR
Rilmac Holdings LTD
Crofton Drive, Allenby Road Industrial Estate, Lincoln, Lincolnshire LN3 4NJ

Tel: 01522 531711
Fax: 01522 510291

What Our Clients Say
"I just wanted to give my sincere thanks for your support on your this week, without which I would have struggled to run them. It is most appreciated and it really helped drive the message home to the attendees.
As mentioned, these will likely be annually now so I may come back and hound you again for your assistance in the future!"
Scaffolding Workshop Support
Carillion