Project: Asbestos Removal from Theatre Roof Void
Client: Wates Group
Location: Derby
Timescale: Oct 18 – Mar 19
Contracts Manager: Nick Coughlan
Rilmac, Asbestos have recently carried out an asbestos removal project within the roof void adjacent to the Bell Tower, of the Guildhall Theatre in Derby.  The work involved the removal of asbestos insulating board contamination within the void and involved working above a listed ceiling structure to enable engineers to assess the condition of the ceiling and the need for any repairs and reinforcement works.
In addition to regular access equipment an independent specialist access company was employed by Wates to assist in the asbestos removal operatives work safely above the listed ceiling.  Rilmac, organised the asbestos operative training, face fit testing and medical examinations, of all specialist access employees and provided all tested and inspected equipment, including all PPE for the duration of the work.
The roof was accessed through a door on the surrounding roof gully perimeter and this was in turn accessed by a fixed scaffold tower, located on the main market square, where a secure compound was set up, for all hygiene facilities, waste containers and self-sufficient welfare away from the main Wates compound.
The enclosure was erected with airlocks on the roof, negative pressure units inside the void and vented into the bell tower and out through vented windows.  An emergency escape hatch and route across the roof was installed and, as the work progressed, crash deck was installed within the auditorium below.
A specially designed rope access system was installed within the roof void and all asbestos operatives went through thorough training of the use of the system and were supervised at all times in the void.
The work included the removal of all asbestos debris, mmmf insulation, loose rubble, discarded general items and a thorough wire brushing of all timber joists, trusses, and the plaster and lath ceiling was required.   Extensive vacuum cleaning was carried out throughout the void to an exceptionally high standard and some inaccessible areas sealed off with suitable materials.
In total the work was completed by 11 individuals including Rilmac management and supervisory staff and three rope access specialists.  Between them they removed roughly three tonnes of contaminated waste over five months
The area was thoroughly inspected by the Derby County Council appointed consultant, who also took swab samples and carried out a disturbed air test as part of the 4-stage clearance.
The Rilmac management team had a good avenue of communication with the Wates team in charge of all work on site and it was agreed that the work had been completed well and in a good atmosphere.  There were no major issues on site.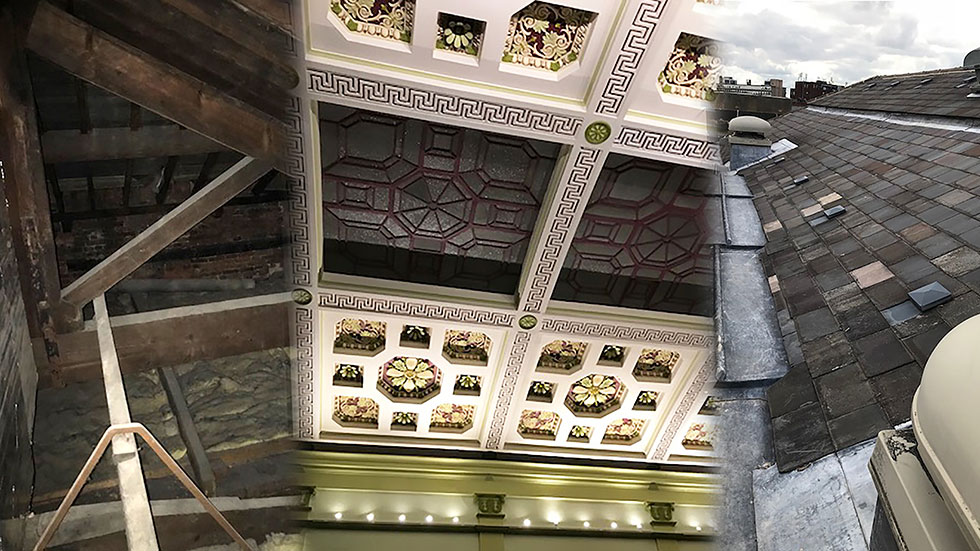 Contact Numbers
Rilmac Asbestos - Manchester
Unit D21 Fieldhouse Industrial Estate, Fieldhouse Road, Rochdale, OL12 0AA

Tel: 0800 612 9002

Rilmac Asbestos - Lincoln
Crofton Drive, Allenby Road Industrial Estate, Lincoln, Lincolnshire LN3 4NJ

Tel: 0800 612 9002
Fax: 01522 510291

Rilmac Asbestos - London
Unit 4, Ashton Gate, Ashton Road, Harold Hill, Romford, RM3 8UF

Tel: 0800 612 9002

Rilmac Asbestos - Huddersfield
Heritage Exchange, Wellington Mills, Plover Road, Lindley, Huddersfield, HD3 3HR

Tel: 0800 612 9002

Rilmac Asbestos - Northampton
7 Edgemead Close, Round Spinney, Northampton, Northants, NN3 8RG
Rilmac Holdings LTD
Crofton Drive, Allenby Road Industrial Estate, Lincoln, Lincolnshire LN3 4NJ

Tel: 01522 531711
Fax: 01522 510291

What Our Clients Say
"We on site are quick to complain but sometimes slow to give praise, so I this opportunity to say that Billy and Danny whilst on this job have been absolutely fantastic, Billy is helpful quick tidy works safely and unlike a lot of people no trouble at all. Both lads are a credit to your firm.
Could you pass on to the relevant parties my thanks for a very good scaffolder and would be more than happy to see them on any job of mine."
Richard Dunnett – Site Manager
Lindum Construction