Project: Bespoke Replacement Staircases
Client: TRAD Safety Systems
Quantity: Two initially, potential for more
Materials: Mild Steel
Finish: Galvanised
Destination: Cummins Turbomachinery premises
Rilmac Fabrication were contracted by safe access specialists TRAD Safety Systems to design and build replacement external staircases for the Cummins Turbomachinery premises. The pre-existing stairs on site not only failed to meet current safety criteria but were also old and in need of repair. The client wanted to remove any vertical ladders for roof access.
The project involved the design, fabrication, and finishing of the replacement stairs as well as the installation at the premises without disrupting the ongoing work. In order to facilitate this the work was staged with each individual stairway a separate phase.
In all phases Rilmac Engineers visited the site to take measurements and photos to ensure an exact fit for the new stairs. New design drawings were then prepared by Rilmac engineer Dave Gilchrist for each of the replacement safety compliant staircases. Each staircase was then fabricated from mild steel and galvanised. Rilmac fabricators then visited site to remove the outdated stairs and replace with the new bespoke versions.
Phase One saw the replacement of stairs on a clad single storey building. The entrance door was situated above ground level for a mezzanine floor. These stairs needed to be extended to allow for safe roof access. This phase was begun in late 2018 and finished early 2019.
Phase Two was the replacement of stairs on a two-storey building. The requirement was for access to a door on second floor above an access point for a compressor. Not only was access to the compressor required but also the lower few steps needed to be angled to allow use of an existing fire hydrant. There was also a platform required at first floor height with an additional two flights of stairs up to roof height for access. Fitting access on site was highly restricted and overcome through a careful sequence of build.
Phase Three is in design, which has some channelling aspects.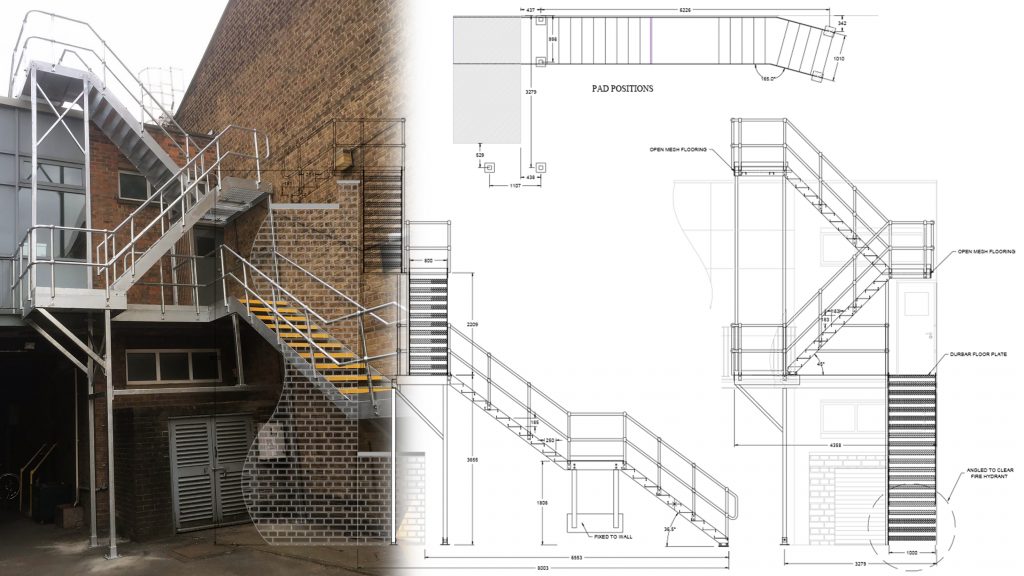 Contact Numbers
Rilmac Fabrication
Crofton Drive, Allenby Industrial Estate, Lincoln LN3 4NJ

Tel: +44 (0)1522 576535
Fax: +44 (0)1522 576582

Rilmac Holdings LTD
Crofton Drive, Allenby Road Industrial Estate, Lincoln, Lincolnshire LN3 4NJ

Tel: 01522 531711
Fax: 01522 510291

What Our Clients Say
"Our Project Manager on site has mentioned that the enclosure is up there with the best he's seen and that he is very impressed with the whole site set up. He has been in the industry for many years so this is fantastic to hear. "
Kris Shuttleton
Ensafe