When providing scaffolding for roofing projects contractors often need weather protection, which is where Rilmac come in with specialist temporary roofs and building covers.
When erecting temporary roofs we prefer to use the UBIX system. This system allows safe installation by feeding the sheeting through runners from the scaffold on either side of the structure.
The majority of temporary roofs are put together in sections on the ground and then lifted into place via a crane. Not only does this reduce the amount of working at height, but is also a speedier and more cost effective approach.
An encapsulation of the sides then gives a watertight finish to the structure. Work can then continue through all seasons without fear of any stoppages due to inclement weather.
We stock a large number of alloy beams both at 450 mm and 750 mm for use in creating temporary roofs  This gives us the most cost effective approach to covering varying sizes of span.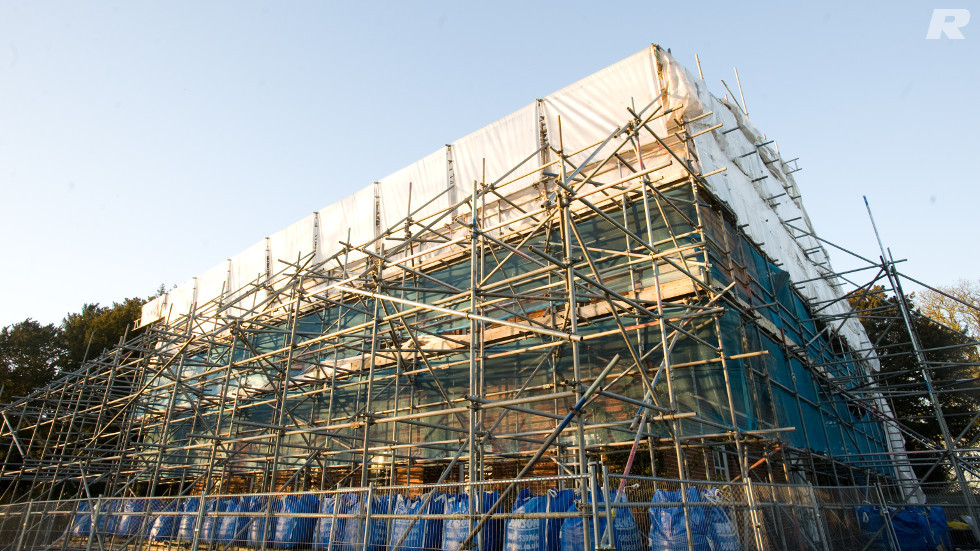 SUBSCRIBE TO OUR E-NEWSLETTER HERE
Contact Information
Rilmac Scaffolding - Lincoln
Greetwell Road, Lincoln, Lincolnshire LN3 4NH

Tel: 01522 545680
Fax: 01522 516530

Rilmac Scaffolding - London
B.W. House, 1 Lea Road, Waltham Abbey, EN9 1AS

Tel: 0203 553 1283

Rilmac Scaffolding - Northampton
7 Edgemead Close, Round Spinney, Northampton, Northants, NN3 8RG

Tel: 01604 659 788

Rilmac Scaffolding - Huddersfield
Heritage Exchange, Wellington Mills, Plover Road, Lindley, Huddersfield, HD3 3HR
Rilmac Holdings Ltd
Crofton Drive, Allenby Road Industrial Estate, Lincoln, Lincolnshire LN3 4NJ

Tel: 01522 531711
Fax: 01522 510291

What Our Clients Say
"I would like to say a huge thank you to each and every one of you for all your hard work over the past 12 months. We have had a huge task and successfully hit all our targets on time with a fantastic safety record and good numbers with the NHBC.
We have also had great scores with the Considerate Constructors again winning an award in March and now in the running for another award this coming March. We have completed on 61 plots this year, mainly apartments which has been a very challenging build with penthouses that have driven us crazy with the designs, but we got there.
Again thank you and on behalf of myself and the team."
Gareth Wilkes - Project Manager
Kier Living