UPDATE: 19/12/16 The total amount raised for the week was £6789.34!  This will be split evenly between The Fire Fighters Charity and St Barnbas Hospice.  Many thanks to all who dontated.
Everyone at Rilmac Scaffolding is proud to be supporting Santa.  In what has become an annual tradition Rilmac Scaffolding have once more loaned Santa a lorry with which to travel around Lincoln and the surrounding villages bringing joy and Christmas cheer.  Santa, who uses the Rilmac lorry to carry his sleigh around the streets, works closely with Lincolnshire Fire & Rescue for these trips.  He not only meets dozens of happy children as he winds his way through Lincoln, he also helps in raising of vital funds for two important local charities; The Fire Fighters Charity and St Barnabas Hospice.  The tours through Lincoln began in Ermine East on Monday 12th December, and will continue through Tower Estate, St Giles, Ermine West, Bailgate, Cherry Willingham, Carlton Centre, and Birchwood, before finishing on Saturday 17th December at Welton and Dunholme.
Dale Seaton of Lincolnshire Fire & Rescue said, "Our collecting wouldn't be as successful without the loan of the vehicle from yourselves. It is very much appreciated. Thank you very much."
This year Santa is traveling with one of his elves, Fireman Sam, and Olaf from Frozen. More information of this special event can be found on the Facebook page here, including how you can track Santa, his sleigh, and the Rilmac lorry live from your computer!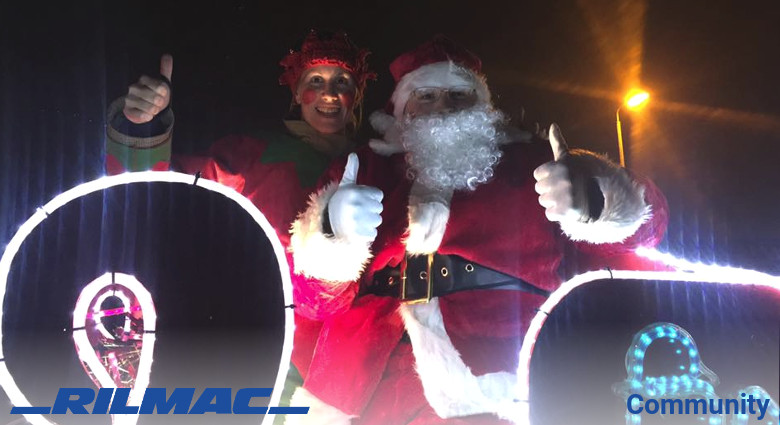 Rilmac Scaffolding - Lincoln
Greetwell Road, Lincoln, Lincolnshire LN3 4NH

Tel: 01522 545680
Fax: 01522 516530

Rilmac Scaffolding - London
B.W. House, 1 Lea Road, Waltham Abbey, EN9 1AS

Tel: 0203 553 1283

Rilmac Scaffolding - Northampton
7 Edgemead Close, Round Spinney, Northampton, Northants, NN3 8RG

Tel: 01604 659 788

Rilmac Scaffolding - Huddersfield
Heritage Exchange, Wellington Mills, Plover Road, Lindley, Huddersfield, HD3 3HR
Rilmac Holdings LTD
Crofton Drive, Allenby Road Industrial Estate, Lincoln, Lincolnshire LN3 4NJ

Tel: 01522 531711
Fax: 01522 510291