Rilmac Insulation is excited and proud to have been winners at the 2018 East Midlands Energy Efficiency Awards. Winning in the category of Insulation & Fabric Installer / Contractor of the Year, the team from Rilmac were presented with their trophy at the official awards dinner on Wednesday night.
In achieving this accolade Rilmac were judged on, among other criteria, the professionalism of their installation and the quality of their insulation work on projects throughout the year.
The Energy Efficiency Awards are in their fourth year and were established to recognise success, innovation and ethics in the field of insulation, energy saving, and renewable power supply.
"It is fantastic to be recognised for our work in saving energy and money for a whole range of customers," said Michael Woods, Managing Director of Rilmac Insulation, "especially in places such as schools and hospitals where our work has wider importance."
"Rilmac have been providing an insulation service for industry for over 60 years. Emphasis on energy efficiency has changed constantly during this period and we are proud to be recognised for providing a service incorporating the latest technology." added Rilmac Group Managing Director, Steve Baxter. "This is a great reward for everyone who has been working so hard across the whole division."
The Energy Efficiency Awards are the third high profile recognition for the Rilmac Group over the past six months, alongside the ARCA Gold Training Award and achieving highly commended at the Family Business awards.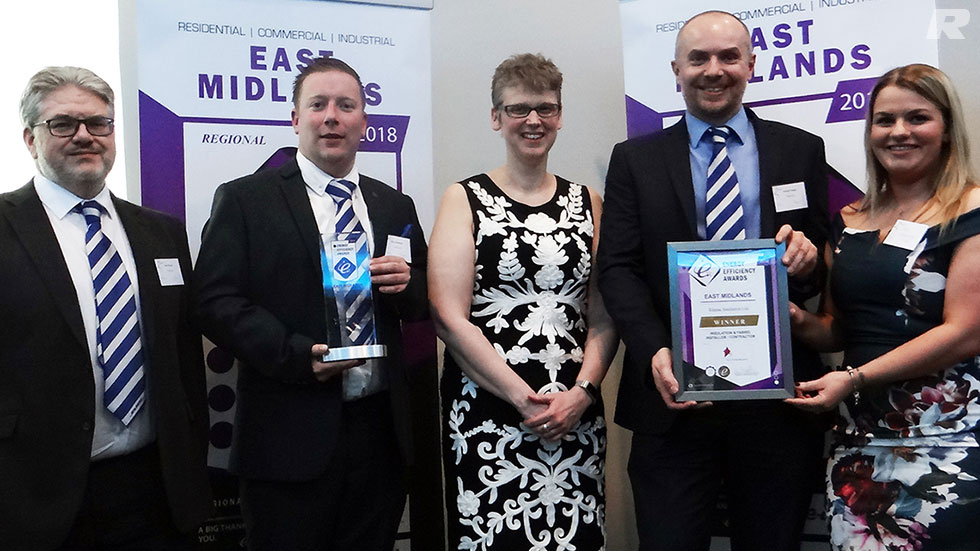 Rilmac Insulation - Manchester
Unit D21 Fieldhouse Industrial Estate, Fieldhouse Road, Rochdale, OL12 0AA

Tel: 0800 612 9002

Rilmac Insulation - Lincoln
Crofton Drive, Allenby Road Industrial Estate, Lincoln, Lincolnshire LN3 4NJ

Tel: 01522 781437
Fax: 01522 510291

Rilmac Insulation - London
Unit 4, Ashton Gate, Ashton Road, Harold Hill, Romford, RM3 8UF

Tel: 0800 612 9002

Rilmac Insulation - Huddersfield
Heritage Exchange, Wellington Mills, Plover Road, Lindley, Huddersfield, HD3 3HR

Tel: 0800 612 9002

Rilmac Insulation - Northampton
7 Edgemead Close, Round Spinney, Northampton, Northants, NN3 8RG
Rilmac Holdings LTD
Crofton Drive, Allenby Road Industrial Estate, Lincoln, Lincolnshire LN3 4NJ

Tel: 01522 531711
Fax: 01522 510291