After three months hard work, Richard Yorke, Contracts Manager at Rilmac Asbestos Services has successfully qualified to ARCA level 4 standard.  The qualification, which sees ARCA (Asbestos Removal Contractors Association) team up with the Royal Society of Public Health (RSPH), covers such areas as understanding health and safety issues, knowledge of legal requirements, ensuring employee safety, the management of asbestos removal sites and the erection and dismantling of safe enclosures.
Before applying to study for the ARCA level 4 qualification Richard had to show his knowledge of risk assessment, plans of work, and competency as a contracts manager, through previous ARCA certificates and training.  Not only is there an examination for this qualification, Richard had to complete a 10,000 word dissertation as well.  On presenting Richard with his certificate Rilmac Director Michael Woods said, "This is a great achievement for Richard, completing the highest available ARCA / RSPH qualification."
"It is fantastic to have a qualification to go with my on the job knowledge," said Richard, "and it was a challenge to get this completed in such a short space of time combining work and the time to complete this qualification."  When he is not reading up for exams, or writing dissertations, Richard is a keen cyclist and was happy to win the latest time trial event he competed in.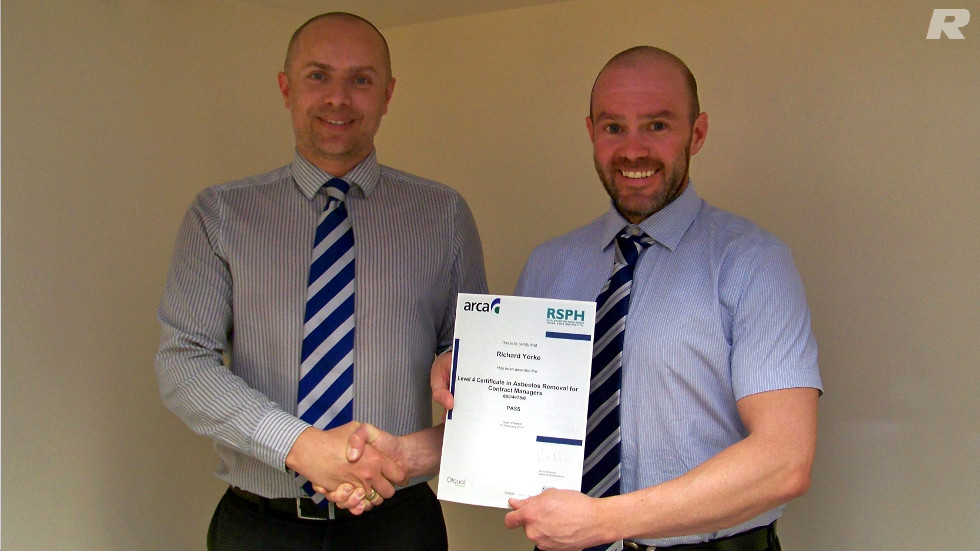 Rilmac Asbestos - Lincoln
Crofton Drive, Allenby Road Industrial Estate, Lincoln, Lincolnshire LN3 4NJ

Tel: 0800 612 9002
Fax: 01522 510291

Rilmac Asbestos - London
B.W. House, 1 Lea Road, Waltham Abbey, EN9 1AS

Tel: 0800 612 9002

Rilmac Asbestos - Huddersfield
Heritage Exchange, Wellington Mills, Plover Road, Lindley, Huddersfield, HD3 3HR

Tel: 0800 612 9002

Rilmac Asbestos - Northampton
Unit 3, The Scorpion Centre, 19-21 Hartburn Close, Crow Lane Industrial Estate, Northamptonshire NN3 9UE
Rilmac Holdings LTD
Crofton Drive, Allenby Road Industrial Estate, Lincoln, Lincolnshire LN3 4NJ

Tel: 01522 531711
Fax: 01522 510291