On discovering that the condition of a square to round transition ducting, on the exhaust port of one of their Test Beds, at their Lincoln Waterside premises had deteriorated, Siemens immediately contacted Rilmac Fabrication to address the problem. Rilmac operatives visited the site, to ensure a complete understanding of the job. A replacement transition duct was engineered using the original 30 year-old drawings, dating from the time the exhaust system was first installed.
Fabricated from Ferritic Stainless Steel – EN10088 1.4003: the ducting is designed to ensure a complete path, joining the square exhaust from the test bed to the circular chimney above. Rilmac fabricated the final part within deadline and delivered to site, where it was lifted to the roof and installed, fitting perfectly. The final ducting is 1.10 m by 1.64 m by 1.56 m.
As part of the contract Rilmac have also secured further works on site to ensure that other areas around the ducting are sealed and allow for access, with additional bespoke steel fabrication work required for the roof.
Phil Bennett of Siemens Industrial Turbomachinery Ltd said, "The response to our breakdown request was extremely good, Simon Robinson and Sion Thomas attended site and were very professional, please pass on our thanks. The quality of work carried out was first class."
This has been one of several ducting projects Rilmac have been involved with lately, an area where their experience and expertise gives them an advantage in the marketplace.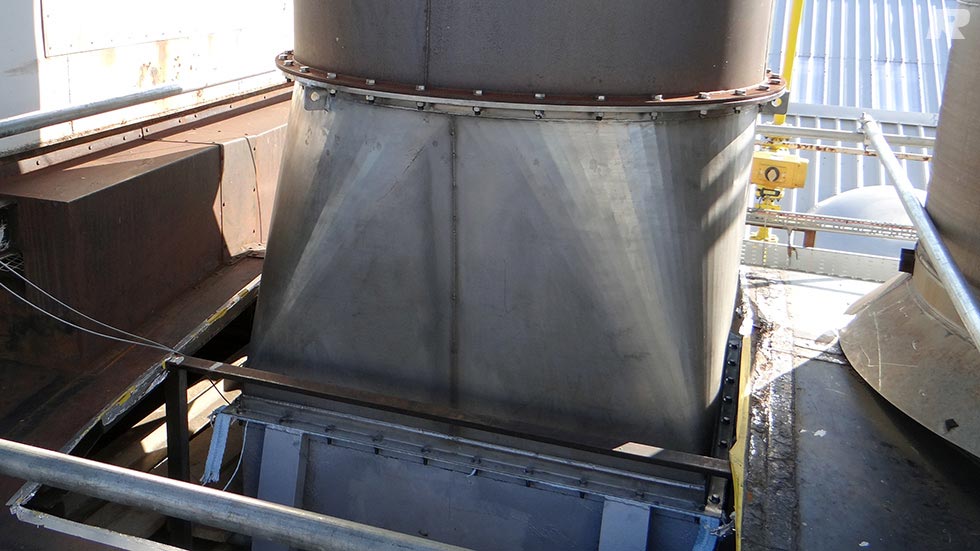 Rilmac Fabrication
Crofton Drive, Allenby Industrial Estate, Lincoln LN3 4NJ

Tel: +44 (0)1522 576535
Fax: +44 (0)1522 576582

Rilmac Holdings LTD
Crofton Drive, Allenby Road Industrial Estate, Lincoln, Lincolnshire LN3 4NJ

Tel: 01522 531711
Fax: 01522 510291