Discovering asbestos in a property when involved in remedial work, or modernisation, can be a serious issue.  When identified in housing stock this logically suggests that it will be found in all similar properties in the area.  Despite having been declared a hazard to health in the 1980s asbestos was still in use as recently as 20 years ago.  Bearing this in mind it is quite likely that, unless it has already been located and removed, most properties may well utilise this dangerous substance.
Among the challenges faced by councils and housing associations when dealing with asbestos in housing stock are:
Requirement for a full solution from testing to disposal
Arresting health concerns among tenants
Disruption of other trades
Value for money
Removal in a timely fashion, and to a timescale
Confidence in contractors
While it can sometimes be important for asbestos to be dealt with immediately, for example void properties, when dealing with multiple properties a full, detailed organisation framework is usually the best option.  Left undisturbed, in a good sealed condition, asbestos causes no harm, and when found in one property the best solution is to identify and plan removal across the rest of the stock as part of an asbestos management plan.  Working in this way provides the most efficient and economical solution to the situation.
It is natural for tenants, and home owners, to feel some level of worry when asbestos is found in their home.  There is the, quite often unwarranted, feeling that damage to health may have already been caused.  This, alongside potential disruption and lack of understanding, can make it difficult to both present an asbestos plan to tenants as well as to implement it.  Some residents reacting to the hazardous nature of asbestos will want immediate attention, while others already concerned about disruption caused by the original work requirements will want to leave the situation well alone.  It is important to be aware of this concerns during the planning process and take ownership during the removal stage.
In order to fulfill both the legal obligations to remove asbestos, and to take in to consideration the concerns of tenants, it is important to develop a strong framework plan, which nevertheless contains enough flexibility, to deal with all eventualities.
Surveys should be as unobtrusive as possible, as convenient for tenants as possible, with timely return of results
In the event of asbestos being discovered an outline removal plan should be in place prior to advising tenants
An asbestos removal company should be in place ready to begin promptly and on schedule
One asbestos removal company should cover the entire project to ensure smooth management
Appointments with tenants should be agreed and confirmed in advance
Properties should be handed back promptly
Tenants should be reassured through air monitoring where required
The asbestos operatives should be friendly, helpful, approachable and knowledgeable
The asbestos management company should also be approachable and available to answer queries
All work, equipment and enclosures should be of the highest quality
The property should be left clean and tidy
Incidental damage should be kept to the absolute minimum
Communication with the council or housing association, or the tenant, should be clear and frequent
All required documentation should be supplied in a timely manner
All schedules should be maintained and updated regularly
A well-developed framework will work well for both the stock holder and the asbestos management company.  It will cause the minimum of disruption to all parties and ensure the process runs smoothly with minimum downtime for other trades.
With over three decades experience in the management, removal and disposal of asbestos Rilmac Insulation Ltd offer a full, turnkey solution for frameworks with councils and housing associations.  Having already worked on housing stock across the UK, and being currently involved with council frameworks today, we are ideally suited to this sector.
We are full ARCA members
We have recently been awarded the maximum three-year asbestos licence by the HSE.
Contracts Managers will attend prestart with Tenant Liaison Officers and arrest any occupiers' concerns.
All our operatives and supervisors are highly trained, friendly and experienced
Most of our contracts managers and both directors have been able to work their way up from 'the tools' giving them a unique insight in to the sector
In-house SHEQ managers, alongside external teams, perform regular site audits to ensure the highest standards.
Our equipment and fleet are highly maintained and kept up to date
Paper-free working ensures all required paperwork as available when required
Dedicated contracts managers and administration team ensure smooth scheduling and communication
We are ISO 9001 – 2015 and ISO 18001 accredited
We hold an Environment Agency Waste Transportation licence and have our own waste management station
We are Constructionline Gold Members and both CHAS and Safe Contractor Accredited
To learn more about Rilmac Insulation Limited, and how we may be able to help you.
Call: 0800 612 9002
E-mail: enquiries@rilmac.co.uk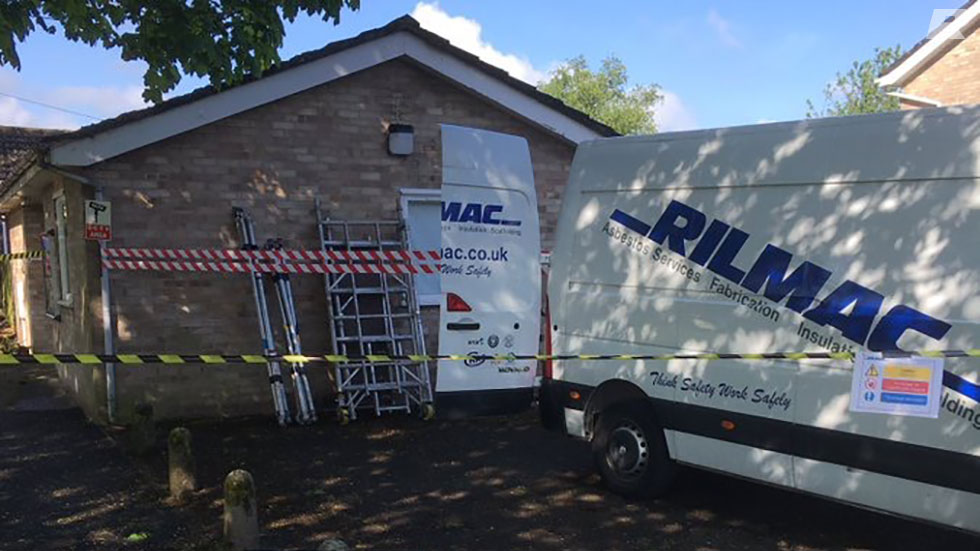 Rilmac Asbestos - Manchester
Unit D21 Fieldhouse Industrial Estate, Fieldhouse Road, Rochdale, OL12 0AA

Tel: 0800 612 9002

Rilmac Asbestos - Lincoln
Crofton Drive, Allenby Road Industrial Estate, Lincoln, Lincolnshire LN3 4NJ

Tel: 0800 612 9002
Fax: 01522 510291

Rilmac Asbestos - London
Unit 4, Ashton Gate, Ashton Road, Harold Hill, Romford, RM3 8UF

Tel: 0800 612 9002

Rilmac Asbestos - Huddersfield
Heritage Exchange, Wellington Mills, Plover Road, Lindley, Huddersfield, HD3 3HR

Tel: 0800 612 9002

Rilmac Asbestos - Northampton
7 Edgemead Close, Round Spinney, Northampton, Northants, NN3 8RG
Rilmac Holdings LTD
Crofton Drive, Allenby Road Industrial Estate, Lincoln, Lincolnshire LN3 4NJ

Tel: 01522 531711
Fax: 01522 510291