On Wednesday 11th January 2017 Rilmac were very pleased to help Lincoln College students gain practical scaffolding experience.  In total a dozen students, plus staff members Jaime Musgrave and Colin Poucher visited the Rilmac Scaffolding yard on Greetwell Road Lincoln and had the opportunity to explore both the theoretical and practical sides of scaffolding.  The group was split in half, with each team experiencing a lecture on the process of designing scaffolding projects, and a session building a simple scaffold structure.
The lecture was presented by Adie Curcio and Chris Ladlow, both designer estimators at Rilmac Scaffolding and included the history of Rilmac, career options in the scaffolding industry, and the complex world of scaffolding project design.  Meanwhile contracts manager Dave Clarke held the practical session, allowing students to get their hands dirty, inside as protection against the high winds.
Visits such as these are of great use to the students, who are in their first year at Lincoln College's Construction College, Gainsborough Campus, as it adds another dimension to their vocational courses.  Technician Instructor, Colin Poucher said that these trips "Give them an insight in to the real world."  Something which was made clear during the introductory talk from Rilmac SHEQ manager Mick Davenport who outlined all the safety issues of visiting a working location, and how this can differ from an education environment.
The students were interested and engaged throughout the afternoon, getting involved and asking questions.  While they are on a range of courses from construction to decorating there was something for everyone as it is likely they will all encounter the use of scaffolding in the future careers.
At the end of the day, Bricklaying Lecturer, Jaime Musgrave, said of the experience, "Excellent.  Very friendly, very informative staff, with an eye opening blend of the practical and theory.  There was content which was new to me!"  Rilmac are very pleased to receive the positive feedback, and hope they have helped the progress of these eager students' careers.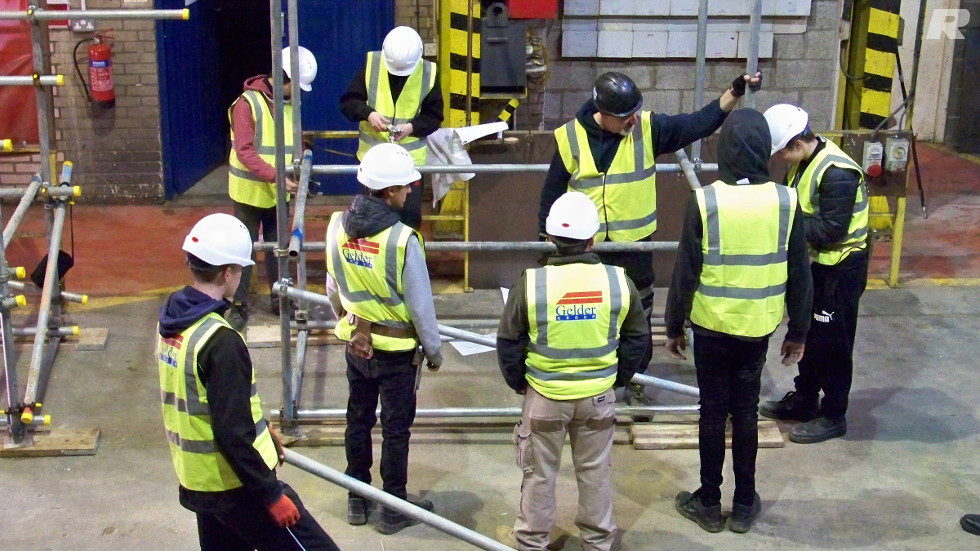 Rilmac Scaffolding - Lincoln
Greetwell Road, Lincoln, Lincolnshire LN3 4NH

Tel: 01522 545680
Fax: 01522 516530

Rilmac Scaffolding - London
B.W. House, 1 Lea Road, Waltham Abbey, EN9 1AS

Tel: 0203 553 1283

Rilmac Scaffolding - Northampton
7 Edgemead Close, Round Spinney, Northampton, Northants, NN3 8RG

Tel: 01604 659 788

Rilmac Scaffolding - Huddersfield
Heritage Exchange, Wellington Mills, Plover Road, Lindley, Huddersfield, HD3 3HR
Rilmac Holdings LTD
Crofton Drive, Allenby Road Industrial Estate, Lincoln, Lincolnshire LN3 4NJ

Tel: 01522 531711
Fax: 01522 510291