Project: Multi Use Gearbox / Engine Removal Tool For A Gas Turbine
Client: Centrax Industries
Materials: S275JR & S355JR
Timescale: 12 weeks approx.
Quantity: One
Finish: 3-coat system finished in Yellow RAL1004
Having identified the requirement for a system to safely remove either the gearbox and/or core engine from a gas turbine, Centrax Industries designed a tool for achieving both.  Rilmac Fabrication were delighted to be contracted to build the first ever model of the new system.  Built from S275JR & S355JR Steel the device has a safe working load of 8.5 Tonnes and was proof load tested to 12.75 Tonnes.
The unit is designed to move around on four castor wheels to ensure positioning in the correct location. Four power jacks then allow the surface to be raised to the required height and levelled out, prior to taking the weight of the gearbox or core engine.  Rilmac were able to source and fit both the most suitable castors and power jacks for this project.
The completed unit was finished to a high standard with machined surfaces and a 3-coat system finished in Yellow RAL1004.  There was rigorous testing throughout, including MPI tests to welds.  As this was the first of its kind there was also additional attention to detail to ensure a smooth process could be developed for the fabrication of future units.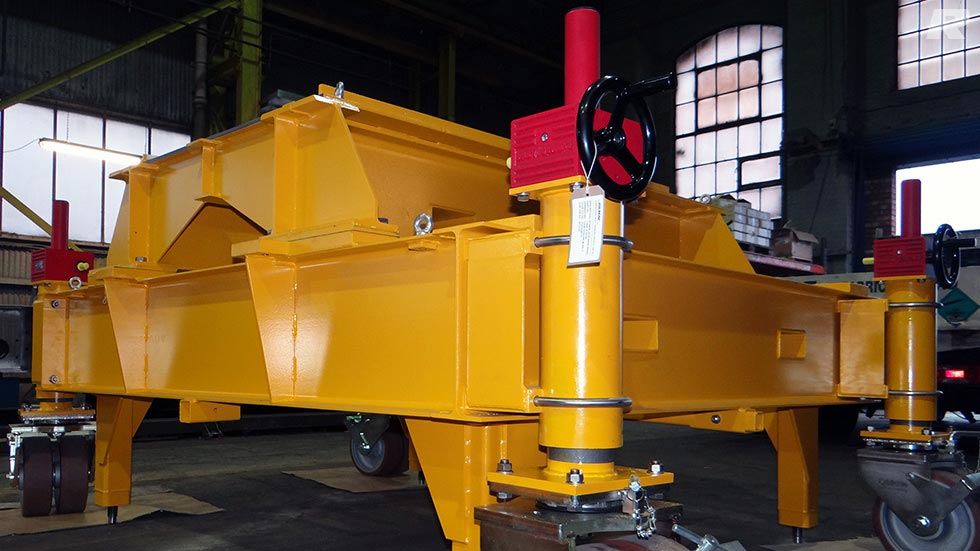 Contact Numbers
Rilmac Fabrication
Crofton Drive, Allenby Industrial Estate, Lincoln LN3 4NJ

Tel: +44 (0)1522 576535
Fax: +44 (0)1522 576582

Rilmac Holdings LTD
Crofton Drive, Allenby Road Industrial Estate, Lincoln, Lincolnshire LN3 4NJ

Tel: 01522 531711
Fax: 01522 510291

What Our Clients Say
"Cracking workmanship!"
Carl Exton, Projects Manager
Sleaford Building Services