The Lincoln Tank Memorial was commissioned by The Lincoln Tank Memorial Group who are a small group of local people who are dedicated to putting a model of a Mark 1 tank on the Tritton Road Roundabout near the University which is close to the site of Foster's factory where the first tank came off the production line in 1916.
 The purpose of the Tank Memorial is to educate people and commemorate Lincoln's great engineering history.
The 1.5 times lifesize model was constructed from corten steel at Rilmac Fabrications Beevor Street site, just a few hundred metres from its final resting place on Tritton Road roundabout. 15 figures were then placed around the memorial that were cut by plasma operator Ashley Tomlin of Rilmac before being powder coated in a contrasting black colour.
Rilmac Fabrications Director, Terry Cutter said "This is a very prestigious job and we are very pleased to be associated with it. The tank is going to be there for a very, very long time and will be seen by a lot of people. It is a demonstration that engineering skills and heritage are still alive here today. But not only have we used traditional skills, we have used the latest technology too, with 3D computer design and the separate component parts have been created using high definition plasma cutting. What is really fantastic is that so many local companies have been involved, and even rival companies have come together with a common goal."
Fabricator Jason Coletti who worked on the project said: "I was very happy when I heard that we would be working on the project. Everything else that I have ever made will probably never be seen by anyone, but this is the one thing that everyone will see, and I am going to tell all my friends and family that I worked on it."
You can read more about the Lincoln Tank memorial here.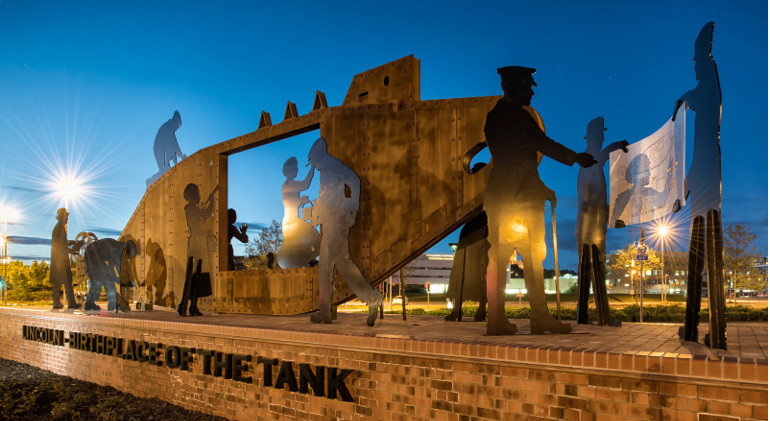 Contact Numbers
Rilmac Fabrication
Crofton Drive, Allenby Industrial Estate, Lincoln LN3 4NJ

Tel: +44 (0)1522 576535
Fax: +44 (0)1522 576582

Rilmac Holdings LTD
Crofton Drive, Allenby Road Industrial Estate, Lincoln, Lincolnshire LN3 4NJ

Tel: 01522 531711
Fax: 01522 510291

What Our Clients Say
"I'm extremely proud of this site and what we have achieved thus far as a site team in the short time we have been here and to be receiving positive feedback not only from my line managers but also from subcontractors is truly honouring.
With regards to your team, as I have said before they are some of the finest scaffolders I have ever came across and I continue to enjoy working with them and hope to do so for a long time to come.
Thank you for your continuing efforts on site, I look forwards to seeing you in the future."
Kier Living