Project: Lincoln Castle Academy
Client: GF Tomlinson
Industry: Construction
Location: Lincoln
Timescale: July – Aug 2018
Contracts Manager: Harry Cowles
The summer holidays are a busy time for Rilmac Asbestos Services as the bulk of asbestos removal projects in schools take place during this period. Among such projects Rilmac have been involved in was a licensed asbestos removal and soft strip at Lincoln Castle Academy.
Soft stripping, the removal of non-structural elements in and outside buildings to facilitate refurbishment, re-modelling or demolition, is an area where Rilmac is growing. The benefits to customers of this service is, that whilst soft stripping partition walls, ceiling grids or other items, should asbestos that is not on the original survey be discovered Rilmac is ideally situated to identify, make safe, and advise on appropriate solutions.
At Lincoln Castle Academy Rilmac began with the removal of all licensed asbestos within the area to be renovated. This was mainly AIB boarding to steel columns. Two separate enclosures were used to ensure the safest removal methods were adhered too.
Once this was complete all non-licensed asbestos floor tiles and bitumen adhesive throughout the area were removed. This allowed the soft stripping to commence with the removal of all ceiling grids, doors, partition walls and more.
It was during this process that a small number of asbestos packers were discovered inside the timber frame by asbestos trained Rilmac operatives. This allowed for quick identification, a discussion with the client's on-site management, RAMS to be updated, and the strip to continue, including removal of the asbestos packers, with the minimum downtime.
Without asbestos trained operatives providing the soft strip the contractor would have been forced to stop work, call in an asbestos removal company, make new plans, and arrange for the removal to be added to the schedule. Due to the nature of school holidays this would have pushed the deadline and made completion in time more difficult.
Customer Comments:
"I have recently completed works on a refurbishment project at Lincoln Castle Academy, the project comprised of refurbishing two class rooms, a library and 2 phases of refurbishments to the servery area.
I found Rilmac and the site team to be very diligent, hard-working and helpful, the works they undertook were carried out in a clean and professional manner.
The Contracts Manager is very personable and extremely knowledgeable and helpful, and it was a very pleasant change to deal with the work ethic that has been adopted by the Rilmac Team.
I would not hesitate to recommend them to anybody."
Brian Ireland, Senior Site Manager – G.F. Tomlinson Building Ltd.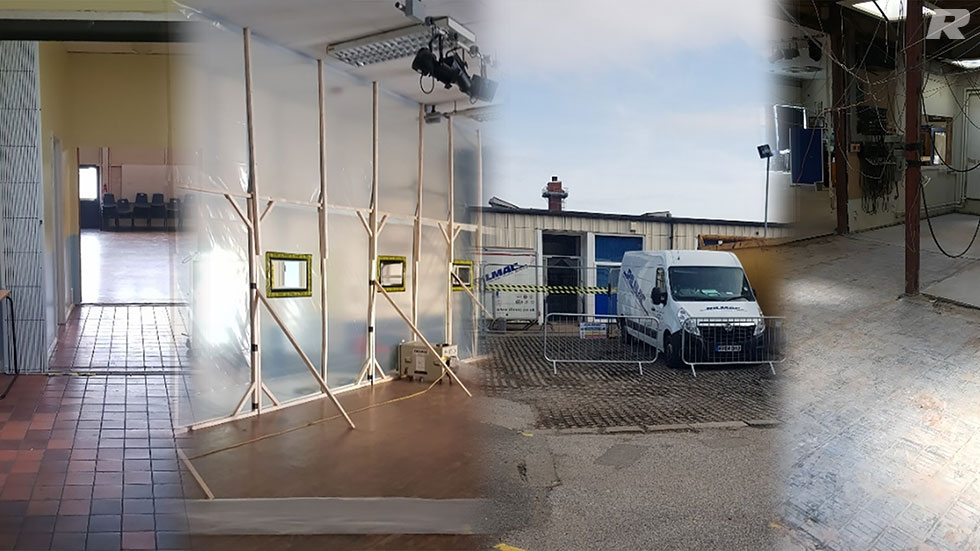 Contact Numbers
Rilmac Asbestos - Manchester
Unit D21 Fieldhouse Industrial Estate, Fieldhouse Road, Rochdale, OL12 0AA

Tel: 0800 612 9002

Rilmac Asbestos - Lincoln
Crofton Drive, Allenby Road Industrial Estate, Lincoln, Lincolnshire LN3 4NJ

Tel: 0800 612 9002
Fax: 01522 510291

Rilmac Asbestos - London
Unit 4, Ashton Gate, Ashton Road, Harold Hill, Romford, RM3 8UF

Tel: 0800 612 9002

Rilmac Asbestos - Huddersfield
Heritage Exchange, Wellington Mills, Plover Road, Lindley, Huddersfield, HD3 3HR

Tel: 0800 612 9002

Rilmac Asbestos - Northampton
7 Edgemead Close, Round Spinney, Northampton, Northants, NN3 8RG
Rilmac Holdings LTD
Crofton Drive, Allenby Road Industrial Estate, Lincoln, Lincolnshire LN3 4NJ

Tel: 01522 531711
Fax: 01522 510291

What Our Clients Say
"I just wanted to give my sincere thanks for your support on your this week, without which I would have struggled to run them. It is most appreciated and it really helped drive the message home to the attendees.
As mentioned, these will likely be annually now so I may come back and hound you again for your assistance in the future!"
Scaffolding Workshop Support
Carillion