Duration: September 2017 – March 2018
Location: Wellingborough
Rilmac were contracted by a Tier 1 construction firm, to assist in an infrastructure project to facilitate 4300 new homes. Phase one involved the asbestos removal and demolition of a redundant warehouse building, with phase two consisting of the follow-on reduced level dig, to 0.5m, of material contaminated by asbestos cement.
Rilmac employed asbestos trained 360 drivers to carry out the dig, with specially trained asbestos operatives in attendance. Several large bore asbestos cement pipes were encountered, removed at source and placed in asbestos cement skips. All excavated material was then transported to the hard standing where the building once stood.
As the excavated material arrived it was loaded in to a specialist three-way screener that sifted the material to separate items that were <10mm, 11mm – 40mm and >40mm, on to one of three conveyors. Specially trained asbestos operatives would then hand pick out any items of asbestos cement identified. If required each pile of material would be sifted more than once until the trained operatives were confident all asbestos items were removed.
After the screening process the material was sampled in multiple locations and sent to a soil testing laboratory. All results came back satisfactory allowing the client to re-use the material as part of the construction project, saving costly disposal fees.
As the work was carried out between September and March the site encountered torrential rain, flooding, high winds, snow, and ice. Despite the problems caused by the weather, the project was still completed safely, on time and within budget.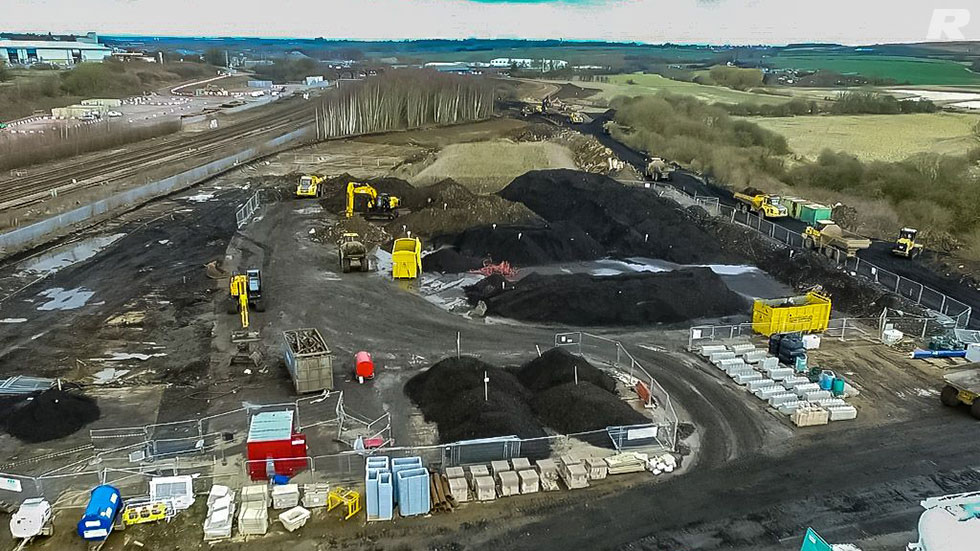 Contact Numbers
Rilmac Asbestos - Lincoln
Crofton Drive, Allenby Road Industrial Estate, Lincoln, Lincolnshire LN3 4NJ

Tel: 0800 612 9002
Fax: 01522 510291

Rilmac Asbestos - Manchester
Unit D21 Fieldhouse Industrial Estate, Fieldhouse Road, Rochdale, OL12 0AA

Tel: 0800 612 9002

Rilmac Asbestos - London
Unit 4, Ashton Gate, Ashton Road, Harold Hill, Romford, RM3 8UF

Tel: 0800 612 9002

Rilmac Asbestos - Huddersfield
Heritage Exchange, Wellington Mills, Plover Road, Lindley, Huddersfield, HD3 3HR

Tel: 0800 612 9002

Rilmac Asbestos - Northampton
7 Edgemead Close, Round Spinney, Northampton, Northants, NN3 8RG
Rilmac Holdings LTD
Crofton Drive, Allenby Road Industrial Estate, Lincoln, Lincolnshire LN3 4NJ

Tel: 01522 531711
Fax: 01522 510291

What Our Clients Say
"Throughout, the team have not only focused on their job at hand but more importantly for me, they have been courteous to my staff and mindful of the fact that we are an operational [division] with on going responsibilities. It has been a pleasure having the team [with us] and I wish them well in the future. Please pass on my thanks to the guys."
MN, Cornwall