Client: Kershaw Group
Location: Chelmsford, Essex
Project: HMP Chelmsford
Timescale: Four Weeks
Scaffolding Type: Heavy duty independent with supporting buttress plus additional kentledge for delicate roofing with asbestos work.
With many operatives already security checked, Rilmac Scaffolding were ideally placed to complete the work required at HMP Chelmsford on time and in line with the tight programme of four weeks.
The contract comprised of a full perimeter scaffold, approximately 120m long with a height of 12m on the main security building. The structure had to be fully independent and could not be tied, as it would normally have been, to the building.
To meet this requirement Rilmac erected a full 4m by full height buttress to strengthen the scaffolding and to cope with the additional wind loadings of a 5.2m high corrugated iron sheeting façade. This sheeting was a compulsory part of the project to ensure prisoner security and remove potential escape routes.
Working alongside a reliable, well known security fencing company Rilmac rose to the challenging logistics plan that stipulated a specific erection sequence of the lower scaffolding.
Littlewoods Fencing worked in unison with Rilmac and the scaffolding with full hoarding was made available to the customer in a timely manner.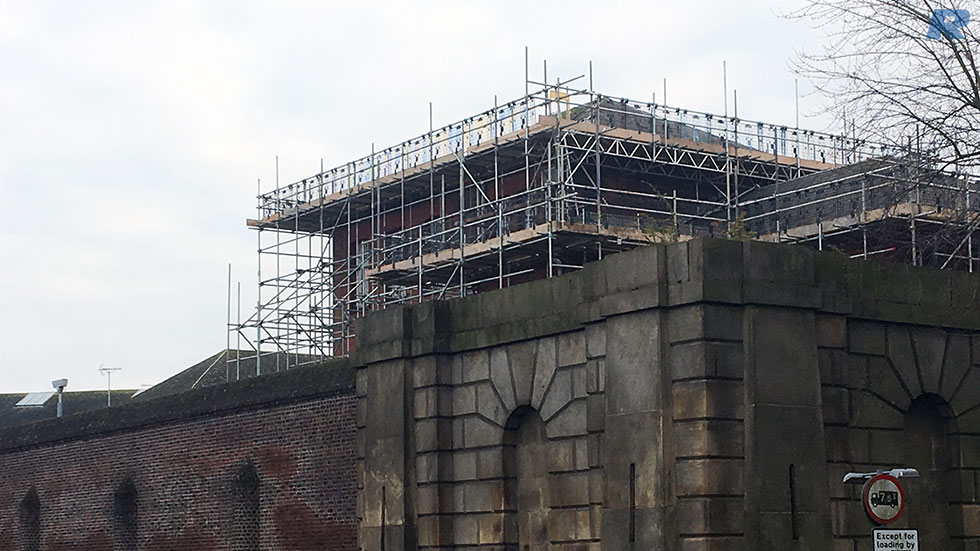 Contact Numbers
Rilmac Scaffolding - Manchester
Unit D21 Fieldhouse Industrial Estate, Fieldhouse Road, Rochdale, OL12 0AA

Tel: 0800 612 9002

Rilmac Scaffolding - Lincoln
Greetwell Road, Lincoln, Lincolnshire LN3 4NH

Tel: 01522 545680
Fax: 01522 516530

Rilmac Scaffolding - London
Unit 4, Ashton Gate, Ashton Road, Harold Hill, Romford, RM3 8UF
Rilmac Scaffolding - Northampton
7 Edgemead Close, Round Spinney, Northampton, Northants, NN3 8RG

Tel: 01604 659 788

Rilmac Scaffolding - Huddersfield
Heritage Exchange, Wellington Mills, Plover Road, Lindley, Huddersfield, HD3 3HR
Rilmac Holdings LTD
Crofton Drive, Allenby Road Industrial Estate, Lincoln, Lincolnshire LN3 4NJ

Tel: 01522 531711
Fax: 01522 510291

What Our Clients Say
"I'd like to thank you for the way you've carried out your work so far, never missed a day so far programme wise, work has been carried exactly how and when I've asked for it.
Your regular scaffolders can take a lot of credit for the smooth running of my site, they are conscientious and professional, they are proactive in their approach and regularly come up with fresh ideas to improve the way we are working, they have already established themselves as key members of my site team.
Thanks for everybody's contribution."
Darren Peck - Site Manager
Strata Homes