Project: Asbestos Removal and Decorative Fireproof Repainting
Location: Lincoln, UK
Time Scale: 11 weeks
Scope: Asbestos containing spray coating used as fire protection had been discovered on the walls and ceiling of the Danesgate House student accommodation and retail block car parking area, in Lincoln. Rilmac Asbestos services were contracted to remove, and make good the 500m² area concerned. This process involved wet injection removal, Quill blast cleaning (with full breathing apparatus RPE), full environmental clean, and decorative repaint (using fire retardant products).
Challenges: Rilmac Asbestos Services had a number of operational factors to deal with throughout the project. These included minimal disruption to the businesses and retail units in the block, occupants in the student accommodation, and live services across the work area. Additionally, time was a factor as all works had to be completed prior to Fresher's Week and the influx of new students.
Planning: Due to the challenges faced all stakeholders in the project were involved right from the tender stage. This team included management and supervisors from Rilmac, the client's project and building managers, plus approved subcontractors. The requirements of all parties were agreed and itemised to facilitate safe working with no surprises. All potential hazards, issues, restrictions, and limitations were identified in advance allowing for an agreed method statement. This included such issues as air monitoring and attendance lists agreed in advance to limit the impact on the businesses and residents, and planning of associated trades.
Delivery: The works commenced in June 2017 and were conducted over 11 weeks using three phased asbestos enclosures, with up to seven men on site at any one time. There was ongoing monitoring of the works and, to ensure smooth progress, compliance meetings were held between Rilmac management and the client every week. Weekly air monitoring and internal/external health & safety auditing ensured the site was compliant and risk free throughout. Upon completion of the asbestos removal works Rilmac then painted the ceiling surfaces as required to an aesthetically pleasing finish, with the appropriate products.
Completion: The entire project was completed on time, and within budget. The client was very happy with all works and commented that Rilmac had planned and delivered all works in a very professional manner, and the site teams were helpful, knowledgeable and conducted themselves on site to the highest standard.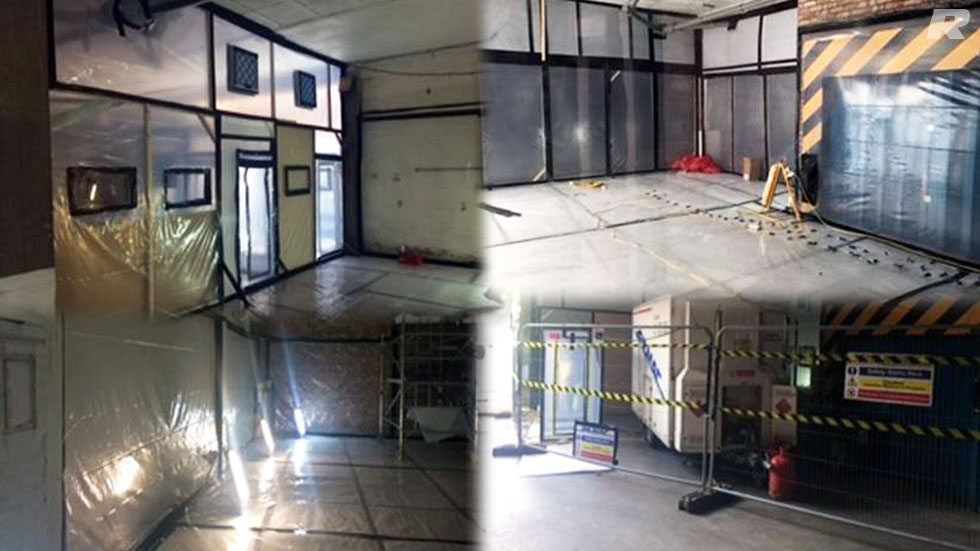 Contact Numbers
Rilmac Asbestos - Lincoln
Crofton Drive, Allenby Road Industrial Estate, Lincoln, Lincolnshire LN3 4NJ

Tel: 0800 612 9002
Fax: 01522 510291

Rilmac Asbestos - London
B.W. House, 1 Lea Road, Waltham Abbey, EN9 1AS

Tel: 0800 612 9002

Rilmac Asbestos - Huddersfield
Heritage Exchange, Wellington Mills, Plover Road, Lindley, Huddersfield, HD3 3HR

Tel: 0800 612 9002

Rilmac Asbestos - Northampton
7 Edgemead Close, Round Spinney, Northampton, Northants, NN3 8RG
Rilmac Holdings LTD
Crofton Drive, Allenby Road Industrial Estate, Lincoln, Lincolnshire LN3 4NJ

Tel: 01522 531711
Fax: 01522 510291

What Our Clients Say
"I am pleased to say that my experience with Rilmac and their operatives was a very positive one. They were regularly based on site full time and ensured that they were integrated and part of our site team. All of the Rilmac personnel that I met were helpful and professional and, moreover, worked safely."
Sophie Lewis
National Grid