Project: Stonework Inspection
Client: English Heritage
Value: Less than £100,000
Location: Bishops Palace, Lincoln
English Heritage engaged Rilmac to erect access scaffolding throughout the Bishops Palace site in Lincoln as part of a vital stonework inspection project.  There are a number of reasons for the inspection, including public safety at this popular tourist venue.
The Palace was originally built in 1163, and 'modernised' in the 1430s and creates special challenges for the scaffolding team.  Access to areas where the final scaffolding was required was an early challenge on site.  Temporary scaffolding needed to be built so that materials could be manoeuvred down to levels where English Heritage needed to work.
Additionally, due to the nature of the building, Rilmac were unable to tie anything to the stonework and vital buttressing needed to be designed to keep the scaffolding safely in place, standing independently.
As members of the public will be accessing some areas of the Palace during the inspection hoarding was required to seal off the scaffold, and additional ladder security has been included.
This is a rare project and Rilmac Scaffolding are proud to have been selected by English Heritage for the work.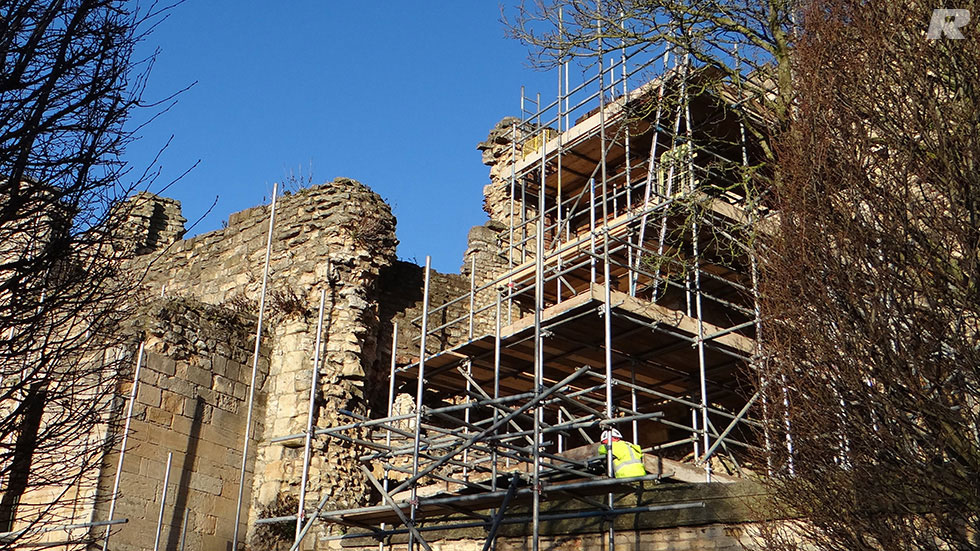 Contact Numbers
Rilmac Scaffolding - Lincoln
Greetwell Road, Lincoln, Lincolnshire LN3 4NH

Tel: 01522 545680
Fax: 01522 516530

Rilmac Scaffolding - London
B.W. House, 1 Lea Road, Waltham Abbey, EN9 1AS

Tel: 0203 553 1283

Rilmac Scaffolding - Northampton
7 Edgemead Close, Round Spinney, Northampton, Northants, NN3 8RG

Tel: 01604 659 788

Rilmac Scaffolding - Huddersfield
Heritage Exchange, Wellington Mills, Plover Road, Lindley, Huddersfield, HD3 3HR
Rilmac Holdings LTD
Crofton Drive, Allenby Road Industrial Estate, Lincoln, Lincolnshire LN3 4NJ

Tel: 01522 531711
Fax: 01522 510291

What Our Clients Say
"Our Project Manager on site has mentioned that the enclosure is up there with the best he's seen and that he is very impressed with the whole site set up. He has been in the industry for many years so this is fantastic to hear. "
Kris Shuttleton
Ensafe