Company: Lindum BMS
Location: Beaumont Fee, Lincoln
Testing on a supporting wall at Beaumont Fee, Lincoln had shown that it had become quite unsafe.  This meant that immediate and rapid works were required to solve the issue.  Rilmac Scaffolding were employed by Lindum BMS to provide support scaffolding keeping the site safe while the wall was demolished.  Nearly 12 tons of scaffolding was required, covering 11m x 3.6m x 4m, and was erected across 2 evenings, with teams working until it got dark.  Rilmac were able to prepare drawings and build the scaffolding well within deadline, allowing for the wall to be made secure quickly and safely.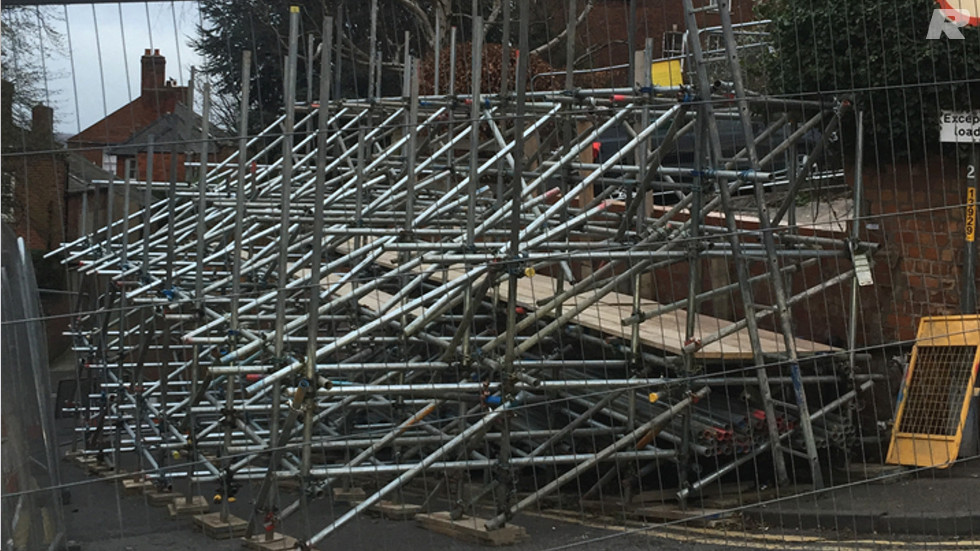 Contact Numbers
Rilmac Scaffolding - Lincoln
Greetwell Road, Lincoln, Lincolnshire LN3 4NH

Tel: 01522 545680
Fax: 01522 516530

Rilmac Scaffolding - London
B.W. House, 1 Lea Road, Waltham Abbey, EN9 1AS
Rilmac Scaffolding - Northampton
Unit 3, The Scorpion Centre, 19-21 Hartburn Close, Crow Lane Industrial Estate, Northamptonshire NN3 9UE

Tel: 01604 659 788

Rilmac Scaffolding - Huddersfield
Heritage Exchange, Wellington Mills, Plover Road, Lindley, Huddersfield, HD3 3HR
Rilmac Holdings LTD
Crofton Drive, Allenby Road Industrial Estate, Lincoln, Lincolnshire LN3 4NJ

Tel: 01522 531711
Fax: 01522 510291

What Our Clients Say
"Just a note of thanks for the excellent service you and your scaffolders have provided here at The Beacon.
Your scaffolders, especially Chris and Shaun are great, and nothing is too much of a burden for them.
Once again, thanks and I look forward to the next phase."
Daryl Green
Wates